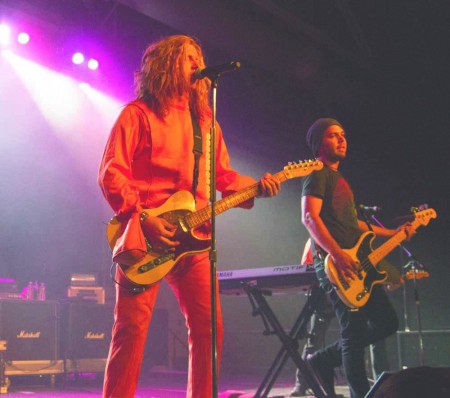 Correction April 25: David Lebin's name was printed as "Lieben" and the attendance of last year's Autumn Alive was 541, instead of the 451 that was printed.
Ferris students won't have to travel to Grand Rapids to attend a large scale concert, as Ferris' Music Industry Management Association (MIMA) has announced next year's Autumn Alive plans.
Changes to the annual performance include a four or five act show on two different stages with a DJ booth placed in between the two.
"When I go to most shows, I feel bored by the end of it because I've been standing in the same spot. But with this, I can move and go watch the DJ perform," David Lebin, general member of MIMA, said.
The increase in number of bands will create a continuous stream of music, according to both Lebin and Amanda Trigger, MIMA booking agent.
No date for the fall 2013 show has been announced, but it will be held in the Wink Arena.
Autumn Alive started in 1999 and has showcased notable acts such as Third Eye Blind, Taking Back Sunday and We The Kings in years past.
For the fall 2013 show, MIMA plans to hire regional acts that may have a closer personal relationship with Ferris students. Fall 2013 acts have yet to be released.
"What we did was compiled a list of regional bands that started in Michigan. We basically just want to book those acts because a lot of people know those acts, and it gives back to the community," Lebin said.
Lebin and Trigger presented information last month during Ferris Student Government's weekly public meeting, and the money to help fund next year's event was passed after a 12 to three vote supporting the allocation of funds from the student activities fund.
Ferris State Student Government allocated $44,248 for next year's performance, stated by Ferris Student Government member Andrew Kalinowski.
The figure is an increase of approximately 22 percent from last year's allocation of roughly $36,000.
Initially, $59,095 was requested from MIMA to run the event, but the final figure came after internal deliberations from Ferris Student Government.
Last year's Autumn Alive had 541 people in attendance. Moving the event from a Thursday to a Friday should increase total participation, according Lebin and Trigger.
Attending students will pay $10 with Ferris identification and non-Ferris students will be charged $20, which will help pay for event expenses as well.
The MIMA presenters are confident that next year's show will be a success.
"We're emphasizing an experience. There's going to be a lot going on, even more than just music," Trigger said.