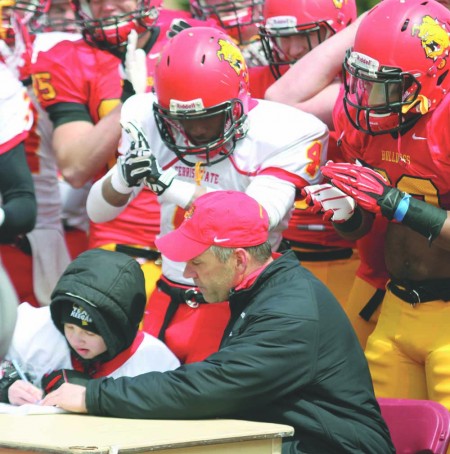 Off to the Outback
Senior center Travis Oullette is not taking his talents to south beach. Instead, he is joining his brother (Brit) on the Adelaide Adrenaline overseas in Australia. Oullette is planning on staying in the land down under over the summer to play with his brother before joining an amateur league team in the fall. Ouellette scored 11 goals and recorded 15 assists this past season, and his 26 points were good enough for second on the Bulldogs. Ouellette and his brother have played together through most of Travis' life.
Road Warriors
The Ferris softball team continues its high level of play by winning four and losing two on the road trip April 19-21. Beating Wayne State once by a score of 5-0, the Bulldogs would fall in the series finale by the identical score. Ohio Dominican provided a challenge for Ferris, but two close games by the scores of 4-3 and 5-2 would result in Ferris victories. Lastly, a trip to Tiffin was on the schedule, and the Bulldogs took the first game in exciting fashion by a 1-0 score in the ninth inning. Tiffin took down Ferris in the final game of the weekend, as Ferris now sports a 20-12 overall record, with only six games remaining in the season.
Bronze Bulldogs
Placing third in the GLIAC Spring Invitational, the men's golf team was led by freshman Ben Cook. Cook placed in a tie for sixth overall in the tournament by shooting a two-day score of 154. Ferris was in second after the first day of action, as Wayne State would jump them and eventually win the tournament. The Bulldogs managed to hold off fourth place Grand Valley by two strokes and Ashland by 11 shots. Next on tap for Ferris is April 27 in the GLIAC preview before heading off to the NCAA-DII Super-Regionals May 6 in Wisconsin.
Passing the Torch
An inspirational scene took place at the annual Crimson and Gold Spring Football game. Head coach Tony Annese and the rest of the Bulldog football team gathered around young cancer survivor Keegan Bulk to sign his honorary letter of intent. He was diagnosed with an inoperable malignant brain tumor in 2010, one day before his ninth birthday. Bulk became an official Bulldog through Ferris' Team IMPACT program.