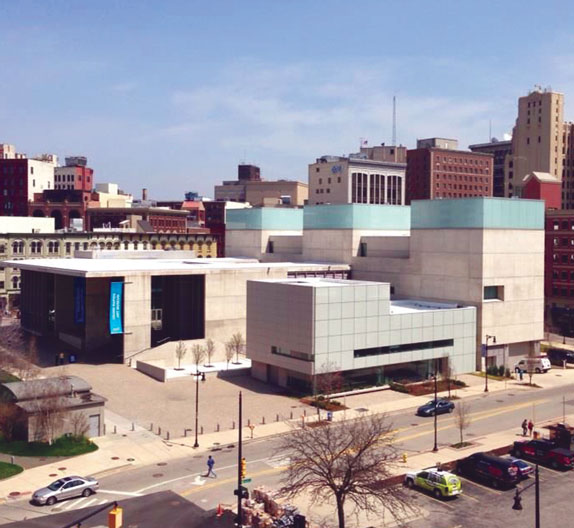 Grand Rapids
Are the Rapids here not big enough for you? Don't fret; they have grander ones about an hour south of campus.
Grand Rapids is one hour south on Highway 131, and is a fairly easy city to navigate with safe, active nightlife.
Grand Rapids is a summer paradise on Michigan's west coast for big city lovers. From the world's largest art competition to concerts at Van Andel Arena, you can't go wrong.
Cuisine/Drinks
For the 21 and older crowd, Hopcat is ranked third amongst beer bars on the planet. The city was named Beer City U.S.A. in 2012, and is also home to the world's second best brewery.
For food that won't break the bank, try Marie Catrib's of Grand Rapids. As UrbanSpoon.com's top-rated GR restaurant, the Mediterranean diner is renowned for its breakfast and brunch.
There's also the Winchester if you're in the mood for food that's a little closer to home. The American style restaurant is more adult-friendly than it is kid-friendly, but the food is high quality for what you pay.
Sports
For diehard Tigers fans, Grand Rapids has the Tigers before they become Tigers.
The future stars of Comerica Park can be seen just north of Grand Rapids at Fifth Third Ballpark, home of the West Michigan Whitecaps. Fifth Third is located right off of U.S. 131 on Ball Park Drive.
Former Tigers' fan favorites Joel Zumaya and Brandon Inge were groomed there. Alex Avila and Ramon Santiago—who are still with Detroit—also once headlined there, as well as future stars Nick Castellanos and Avisail Garcia.
The $1 hot dog night is accompanied by $2 beer, pretzel and Pepsi products every Thursday during the regular season.
Lawn seats run at $6 a pop, while the best seats cost $20. Sitting behind the plate will only set you back about $14. For more information, visit the Whitecaps site at milb.com/index.jsp?sid=t582 or call the box office at (616) 784-4131.
Entertainment
The Grand Rapids area is well known for its arts and beats, along with its sugary-sanded beaches.
For country fans, Birthday Bash awaits. Birthday Bash takes place June 8-9 and is a free two-day country concert that will headline with Hunter Hayes, Gary Allan, Uncle Kracker and Randy Houser this year on the first day. This year's venue is MotorSports Park off of U.S. 131.
Rock fans can witness Rush on June 30 at Van Andel Arena, and alternative listeners can check out Owl City Aug. 11 at Frederik Meijer Gardens.
Only 40 minutes southwest of downtown Grand Rapids is Saugatuck, where Oval Beach awaits the beach bums. It's rated as one of the top five most beautiful beaches in America.
Comedy is included; Daniel Tosh's 2013 comedy tour hits Devos Hall on June 7. The host of Comedy Central hit "Tosh.0" merits four and a half stars out of five from Ticketmaster users for his lack of restraint when it comes to crossing the line.
Mt. Pleasant
Mt. Pleasant lies 45 minutes east of this Big Rapids Eden, offering yet another college town and several more police forces for students tired of the same-old.
Soaring Eagle Casino is a favorite of Central Michigan University students with cash burning a hole in their pocket—surely some Ferris students have a similar problem with their loan money.
It also offers a theater with more than four screens, as does Grand Rapids, to an even greater extent. Film aficionados weeping at the Big Rapids selection will be more likely to find their shirked Terrence Malick film or Ryan Gosling vehicle by taking to the road.
Traverse City
The eighth annual Traverse City Film Festival is a great way to view upcoming films before they are released in theaters. The festival brings in around 100,000 people to Traverse City every year; it's a great way to spend an afternoon watching movies.
Michael Moore, the man behind films such as "Fahrenheit 9/11" and "Bowling for Columbine," is the creator and host of the festival. The six-day event, with around 150 film viewings, is usually centered around independent films, but has also shown box office hits like "Iron Man" and "Beasts of the Southern Wild." The 2013 Traverse City Film Festival runs from July 30 to Aug. 4.