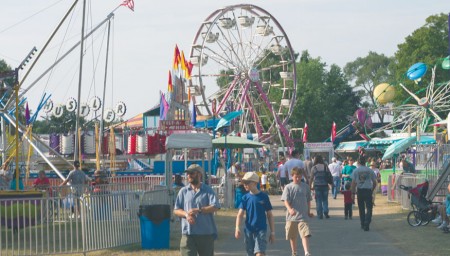 The weather has finally taken a turn for the warmer, and summer approaches. Though many anxious, Big Rapids-weary Ferris students are itching to head home, not all the out-of-towners are hightailing it out of town mere minutes after their last exam. For those sticking around looking for budget and mileage-friendly outlets for their time and energy, here are a few nearby, lesser known places that won't take you too far beyond city limits.
Pocket Park Concerts
Live, local music is offered right in downtown Big Rapids in Pocket Park.
All of the musicians are local and provide music from all genres including rock, blues, jazz, old country and bluegrass. There are currently 17 acts lined up for the summer from May 10 to Aug. 30.
All the concerts take place from noon to 2 p.m. on Fridays. Pocket Park is located between Pepper's Café and Chemical Bank on Michigan Avenue.
Nawal's Mediterranean Eatery, Gourmet Cupcakes and Desserts
For those interested in finding something tasty and out of the ordinary, Nawal's Mediterranean Eatery, Gourmet Cupcakes and Desserts located in downtown Big Rapids will sorely tempt those with a sweet tooth.
Specialty homemade Mediterranean dishes are served, and the menu changes each day. Gourmet cupcakes are also offered. Nawal Braden-Swart, owner of the Mediterranean Eatery and a native of Egypt, has been featured on television multiple times for her homemade cupcakes, most recently for her Michigan Avenue business which opened April 2, 2013.
Paris Park
The Paris Park is approximately seven miles north of Big Rapids. It's great for a long walk, quick bike ride or rollerblading jaunt. The path is paved all the way, making transportation via rails or trails perfect for the outdoorsy type. For those not into the exercising thing, the drive is a short five minutes on Old 131 North.
The park hosts native Michigan animals, such as geese, ducks and a pond full of trout, which visitors are able to feed. The park itself is a campground with a very recognizable landmark: a miniature Eiffel Tower.
Small lakes, rivers and their beaches
Tubing is a Big Rapids staple, but sometimes people want to cool off without the work and the tube. Brower Park, Young's Lake Camp Ground and School Section Lake are all within 15 miles of Big Rapids, each offering a cool retreat without the worries of floating away from the group.
Baldwin's Shrine of the Pines
Northwest of Big Rapids is an attraction that fascinates as much as it functions: an entire eco-friendly house built out of reclaimed old-growth Michigan timber. The centerpiece is a 700-pound dining room table made from the stump of an enormous pine tree. The many hidden compartments and inlays of the prohibition-era house are things to be appreciated even by the casual.
The Ice Cream Run
A trip for the tastiest treat, start this run in the late morning. Begin at the Pioneer Emporium in Big Rapids with a single-dip ice cream. From there, travel south to Stanwood's Copper Top Convenience Store for another single dip. Following 131 South brings one to Morley for a stop at Udderly Delicious.
If that sweet tooth still isn't sated, continue south on Old 131 to Howard City's Dairy Bear for another single dip. For the grand finale, King's Trading Post in Sylvester, near Mecosta, makes up for being out of the way with a single dip the size of your head.
Mary's All About Health and Wellness
Big Rapids is full of fast food and retail, the bulk of it dominating the front of Ferris' campus. There are other options around, though—ones that won't have diners walking around with uncomfortably heavy stomachs on a blisteringly hot summer day.
Downtown Big Rapids offers a variety of such options, one of them being Mary's All About Health and Wellness. Providing one of the few shopping options for the more health-conscious or meat-unfriendly eaters, the small grocery provides everything from sweets to big dinner ingredients, in addition to midday meals and many other services.