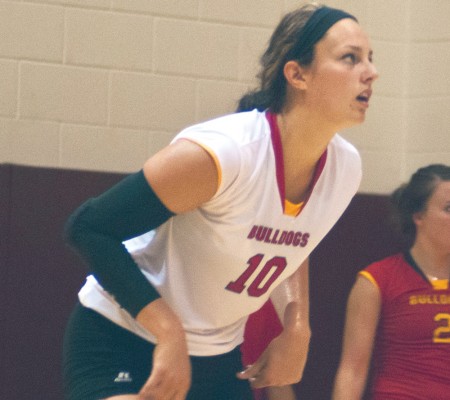 Alexis Huntey
Sophomore
FSU Women's Volleyball
Huntey is a sophomore transfer student for Ferris State's volleyball team, and younger sister of former Bulldog All-American Ashley Huntey.
Huntey is the team leader in points per set at 5.52 through the Bulldog's first four regular season games at the Bulldog Invite.
She also led the team with 58 kills and started all four matches.
Huntey, who is 6 feet 1 inches tall, is third on the team in blocks after their opening weekend with 9.0.
A local student out of Morley Stanwood High School, Huntey was a freshman athlete at George Washington University who finished 10-18 in the Division I Atlantic 10 Conference.
Huntey had 300 assists in 12 starts during the 2012 season and had a season high 51 assists against Temple on Oct. 14.
Huntey and the Bulldogs will take a long road trip to Warrensburg, Mo., for the Peggy Martin Challenge Sept. 13-14.