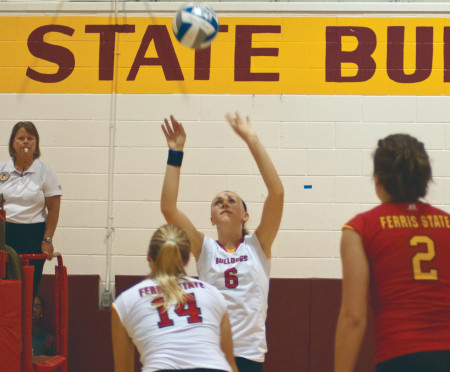 The Ferris State volleyball team is working out some frustration from last season in preparation for their next two home matches against Northwood and Hillsdale.
Last season, the bulldogs faced Northwood twice, losing three of the five games in their first match and winning three out of three in their second.
"We are going to have to bring our best for both competitions," Ferris senior libero Brandie Merren said. "We have been working harder than we usually do in order to continue bettering our play."
Head coach Tia Brandel-Wilhelm has been working hard to get her team prepared to come out strong this year against tougher opponents, such as Northwood, that gave them a hard time last year.
"I believe playing Northwood will be a battle," Ferris senior middle hitter Angi Kent said. "However, I am expecting us to do our jobs and put in work. It is going to be a very good, intense game."
Even though Northwood gave Ferris a rougher time last year than Hillsdale did, Kent believes their real competition this year will be Hillsdale.
The Bulldogs faced Hillsdale twice last season as well, winning both matches in just three games apiece.
"Hillsdale runs a very fast offense. It is very easy to get caught up with everything they are doing on their side of the net, but our preparation for games is very efficient. We will work hard and get work done," Kent said.
Kent is very confident that if they start off by focusing on their own talents as a team and figure how they can use them to beat their opponent, then the Bulldogs will be able to compete well against any team they will face this season.
"One of the most important things when preparing for a game against a tough offensive team is to work hard in practice by doing drills that will help us adapt our defense against their offensive strengths," Kent said.
Kent and the volleyball team will have a lot on their plate this weekend if they want to come out with two wins against these tough teams. These early season conference games can make or break Ferris' hopes of advancing farther than any volleyball team in Ferris history.
The Bulldogs will face Northwood at Wink Arena for the first time this season Friday, Sept. 20, at 7 p.m. They have a second home game at Wink the following day at 3p.m. against Hillsdale.