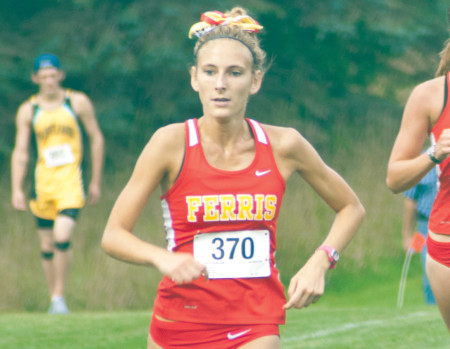 Confidence, a thirst for success, mental toughness and dedication are some of the qualities Ferris junior cross- country runner Kayla Smith exudes daily.
Smith comes from the small town of Onondaga and has been running ever since she can remember.
Although her parents made her play team sports like tee ball and basketball as a child, she knew when she started running that cross country was definitely the sport for her.
Cross country is more of a personal sport because runners need to have the mental toughness to want to succeed.
That mindset isn't something that can be taught. It's a gift and a practice that few maintain today.
"I have always had great motivation for running, not only from my own personal drive, but knowing that my teammates are working hard, too," Smith said.
Smith has been running for Ferris for three years now, and she is very happy with how her career as a Bulldog has been.
"I still have some goals I want to reach before I graduate from Ferris," Smith said. "I would like to lower my 5K and 6K times this year, and maybe even lower them again in my senior year."
Head coach Steve Picucci believes that Smith is one of his hardest-working runners on the team because she will never settle for being average.
"She has such great dedication for what she does," Picucci said. "I know the standards she has set for herself, and I believe she is ready for a major breakthrough soon. We are going to do everything we can to help her reach all of her goals."
Smith was Ferris' top runner at the Ray Helsing Invite in Big Rapids, where she posted a time of 19:39.69 in the women's 5k and finished fifth overall.
One of Smith's greater role models is Tina Muir, a former cross country runner for Ferris.
"I admire Tina's dedication and work ethic," Smith said. "When it was time to focus and train, she gave it her all every single time."
When getting ready for a race, Smith tends to focus the best while warming up with her team. That is when the adrenaline and nerves start setting in, which makes for a better mindset to win.
Smith has the strive to succeed in her next year and a half as a Bulldog and is confident that if she keeps working hard, then she will be able to reach all the goals and standards she, her coaches and the team have set.
The Bulldogs' next race is in Lansing at the Lansing Community College Invite, where Smith hopes to drop even more time off her personal record.