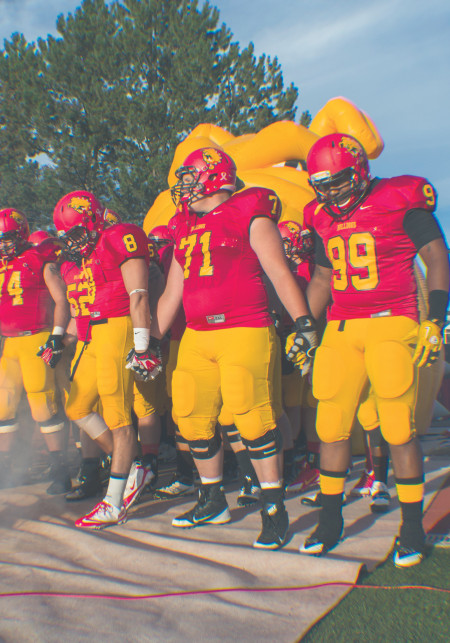 The Ferris State Bulldogs will need to win the homecoming matchup to keep the top spot in the GLIAC over Saginaw Valley.
Ferris State (3-1) is currently in a three-way tie between Saginaw Valley (3-1) and Ohio Dominican (4-0) for the top spot in the GLIAC. Ferris will enter the homecoming game with the advantage of having screaming crimson and gold fans on their side.
The Bulldogs are coming off a 59-16 blowout decision over Walsh, where their offensive dominance continued, paired with another solid performance from a much improved defense.
"We haven't reached our potential yet, but our defense has really shown improvement each week and we still believe we can do better," Ferris senior defensive back Jamar Wimberly said. "SVSU is a great team and we know that going into this game, but we have to stick to our scheme and play hard nose football on both sides of the ball."
Wimberly has contributed to a Ferris defense that has only allowed 23 points collectively in the past two games. The Bulldogs' improvement can be attributed to solid tackling and the ability to force turnovers, as Ferris is second in the GLIAC in interceptions with six, four of which has come from Ferris junior corner A.J. McEwen.
"We have shown spurts of greatness, but we not there yet," Wimberly said. "We work very hard at our schemes so the sky is the limit for our defense."
Offensively, Ferris has remained a force to be reckoned with, scoring 149 points in their last three games, all of which have been victories. The Bulldogs lead the GLIAC in almost every rushing statistic, with 1267 yards on the ground, 16 rushing touchdowns and 316.8 rushing yards per game, all being conference highs.
The offense also leads the GLIAC in third down conversions, with 55 percent efficiency and rushing first downs, with 65.
"I think it's our confidence level," junior receiver Jake Lampman said in regards to the offensive success in the past three weeks. "We dominate up front on the o-line and we have a swagger about us and a mindset that we can score whenever we want on whoever we want."
The match up with Saginaw Valley State will provide a good barometer for the Bulldogs as they reach the middle part of the regular season.
"We have to have a great practice this week and stay focused," Ferris sophomore quarterback Jason Vander Laan said. "It's going to be the toughest conference game of the year so far without a doubt, but it will be nice to play back on home turf."
The Bulldogs will face the Cardinals on Saturday, Oct. 5 at 2 p.m. on Top Taggart Field. Ferris will also be unveiling its new scoreboard and sound system during homecoming.