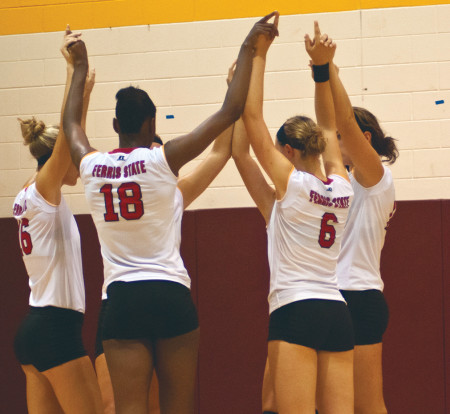 The Ferris State Bulldog's volleyball team will participate in homecoming festivities this year.
Right now they're preparing to compete at the Ewigleben Sports Complex against Tiffin and Ohio Dominican this season.
The Bulldogs are coming off a GLIAC road series sweep over Malone and Walsh. The victories pushed Ferris States conference play record to 4-0 and their regular season record to 9-3. The sweep took their winning streak to five overall.
Within their five game winning streak, the Bulldogs haven't lost a single set, winning each match 3-0. The last time the Bulldog's lost a set was in the midst of a 3-1 loss to Pittsburgh State on Sept. 14.
Ferris senior captain Angie Kent noted she and head coach Tia Brandel-Wilhem have kept the team motivated to accomplish all goals implemented into practice. Kent, who plays middle hitter for the Bulldogs, isn't viewing her competition against these teams lightly by any means.
"I do not view them easy at all. We've all [senior players] been playing volleyball for years and there isn't a whole lot of new stuff to look at," Kent said. "We all have the same stats, but different strengths and weaknesses. I'm just going to do my very best and if you beat me, you must have put up a good fight!"
In the midst of a six-game winning streak last season, the Bulldogs took matches against Tiffin (3-0) and followed up with a 3-1 victory over Ohio Dominican.
The confidence Kent displays has spread amongst her team members. Despite their roster being young, the girls have shown age will not define their playing time according to Ferris junior outside hitter Courtney Rehm.
"A lot of new aspects for the team this year is that it's younger. But it allows us to be able to push harder and longer," Rehm said.
Rehm added she can encourage and help her teammates because of her experience and has a better idea of what to expect on the court.
It seems the main difference between this year's team compared to last year's is the bond they share off and on the court.
"This year we're much closer, like a close family bond, [Ferris] is known for that," Kent said. "Recruits say that they can see a family and we portray that on and off the court. We're very trusting of one another."
She said the team trusts one another to set each other up for plays and play their role during games to be able to achieve the win.
The games will take place on the Bulldogs' home court. Ferris will play Tiffin at 7 p.m. on Oct. 4 and Ohio Dominican at 5 p.m. on Oct. 5.