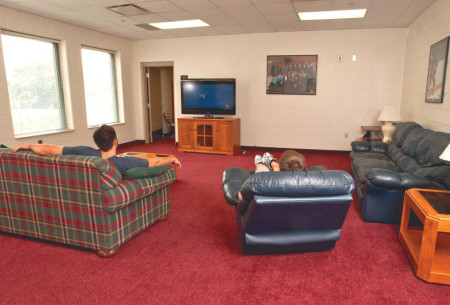 The Ewigleben Sports Arena, the home facility for Ferris State Hockey, provides the team with many perks.
The arena officially seats 2,493 for hockey games and provides a student section, better known as the Dawg Pound, that roars with pride throughout the games. The Dawg Pound has been in sold out back-to-back seasons since the complex expansion in 2012 and seats 600.
"I strongly believe in home ice advantage," Ferris senior forward Garrett Thompson said. "The Dawg Pound is unbelievable and I've even been told it's the hardest arena for opposing teams to play in."
Beyond the locker room doors lies a complex all by itself- almost an extra building to which the hockey players often escape.
The team clubhouse includes their own weight rooms, team lounge, sauna, equipment care, and spin bike room. The coaches' offices are also located in this labyrinth of rooms that the hockey team uses daily.
The newest additions to the facility was the weight and spin bike room, which were updated this year.
"We have new dumbbells, so those get the most use," Thompson said. "We use dumbbells for most every exercise, which also helps us with balance. That is a big part of the game."
In addition to the new weight room, the Bulldogs had eye-training machines implemented into their facilities. This equipment is very interactive and allows for the players' visual game to improve. Thompson said the eye training is beneficial for the entire game because of how much it improves they players' eyesights.
Not only does the complex physically prepare the team for a game, but it also reminds the players of the program's storied tradition.
The team lounge is draped with pictures of previous players such as Chris Kunitz (Pittsburgh Penguins), Greg Rallo (Florida Panthers), and Zach Redmond (Winnipeg Jets).
"These legends from Ferris give the players inspiration to be the next big thing," said Broadcast Associate Dom Hennig.
Even though the team is comfortable in their Bulldog territory, the away facilities still provide a unique drive to win for the Bulldogs.
"I look forward to heading to other arenas with the fact that most likely the entire building is rooting against you," Thompson said. "Don't get me wrong it's great to play in front of the Dawg Pound but a nice change in pace of being the underdog makes winning that much sweeter,."
The Bulldogs have their home opener Oct. 18 against St. Lawrence at 7 p.m.