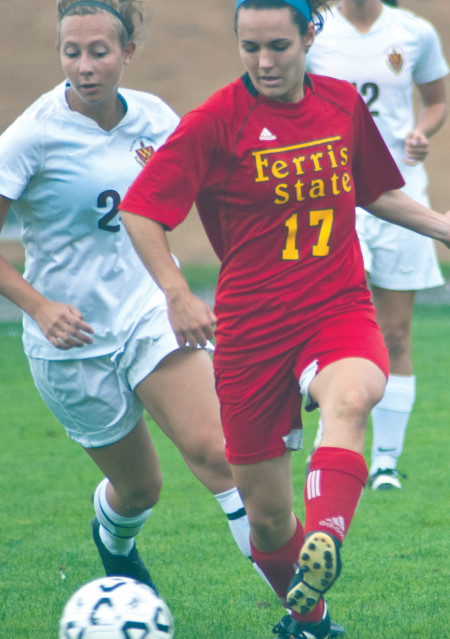 The Ferris State women's soccer team has found their footing following a slow start to the season.
Despite a 6-0 loss at Grand Valley State, there is reason for optimism going into the second half of the season.
Victories over Saginaw Valley State, Malone and Walsh have propelled the Bulldogs back into the race for GLIAC contention in the past two weeks.
Regardless of key team injuries, the ladies have pulled the accomplishment of breaking the .500 mark. Breaking this plane will help the team find their spot for the conference tournament in the future.
"We needed [.500] to boost our confidence and remind us that we belong in the top of the conference and fully deserve our second place spot," junior midfielder Leanne Boehm said.
Rachel McCollum, senior goalkeeper, said the injuries within in the team are not affecting the team's performance. The younger players have also done well with stepping up to fill the positions.
Junior midfielder Stephanie Garland's season was lost when she tore her anterior cruciate ligament. Garland scored two overtime goals last season and was one of the most dependable scorers on the team.
"I will hope­fully be back for at least the end of spring training," Garland said. "If not, then I will be back by next season if everything goes well."
The Bulldogs' head coach Andy McCaslin had the team focus on certain skills for the games. Ball speed, work ethic and a positive attitude have been the main three. If the team implements these elements in a game, it will play a large role in the their success this season.  
"Work ethic is the most important key. This has created an atmosphere of constant competition and it has brought the best out of our players," senior defender Amanda Foster said.
Foster also said each game is a challenge, but if the team plays to the best of their abilities, they can beat anyone.
The chemistry the players have off the field is also playing a large part in their success.
" Our chemistry as a team this year is much better than it has been in the years past, which I believe is helping us be successful," McCollum said.
Her teammate, Boehm also said the great friendships developed have been important for the team as well.
The team's efforts continue at their next home game against Tiffin on Oct. 18 at 2 p.m.