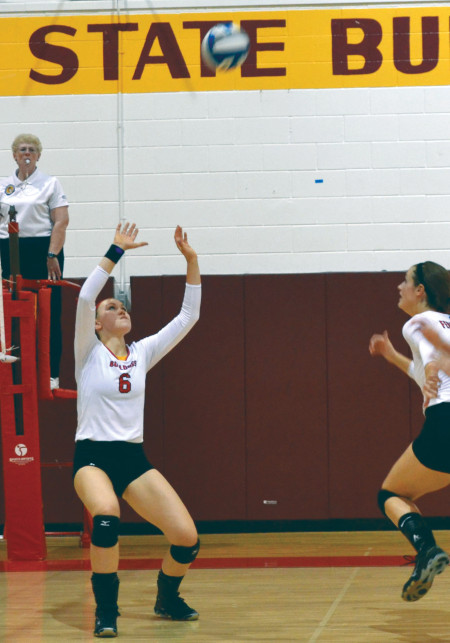 Some may say being the setter isn't always the most glamorous or high-profile job in volleyball.
However, freshman Stephanie Sikorski is putting up excellent numbers in her capacity as the starting setter for the Ferris State women's volleyball team.
Sikorski, of Rochester, was offered a spot on the Bulldog team in March of her junior year of high school. While volleyball was the sport she was in love with, the idea of being a setter was not.
"When we were at Ferris for camps freshman year [high school] I would always run off to the hitting drills because that's what I wanted," Sikorski said. "Then Tia explained how much potential I had and I was just in awe that a collegiate coach saw my abilities."
Sikorski went on to say she enjoys her position because she is the determining factor of where, how and to whom the ball gets set. The ability to have that kind of control during a game is what really drives her.
Major hitters Angi Kent, Courtney Rehm and Caroline Heitzman fully trust where Sikorski sets the ball. The lady Bulldogs have praised Sikorski's adaptability to grow and learn her teammates' individual hitting styles.
The 5-foot-10-inch setter averages 9.87 assists per game. Sikorski is also setting for an average of 67 sets per game.
"I'm extremely trusting of Steph's sets because she is a naturally gifted athlete already, and she is an awesome setter," Heitzman said.
With the encouragement of her teammates, one of Sikorski's ambitions during her time as a Bulldog is to eventually become a leader on the court.
"Stephanie by far has the most important job on the team," Rehm said. "There's a certain knowledge a setter must have according to where to put the ball and how high to set for each person. It's a difficult job because it's constant adjusting, but she handles it very well."
At the GLVC Crossover Tournament, the communication was encouraging and uplifting. All players seemed to help one another identify what is needed from Sikorski as a setter, as she tells them what is needed from a passer in order for all to succeed.
"I just want to be the best I can be for my team," Sikorski said. "That is my main goal and that's what I am looking to improve upon this season."
Sikorski and the Bulldogs will next be in action Nov. 1 at Michigan Tech at 7 p.m.