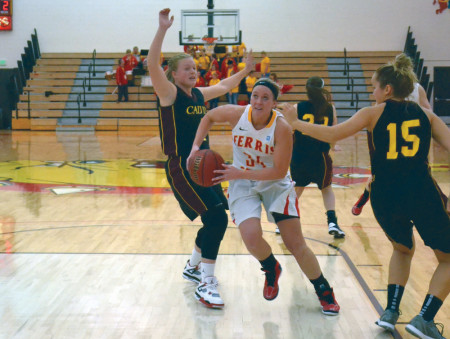 The Ferris State women's basketball team is continuing to stay sharp during their downtime this season.
The Lady Bulldogs have a large gap in their season that started Oct. 30 and doesn't end until Nov. 23.
"The large gap between our games just gives our team the chance to keep improving and working on all the things we need to get better at," senior guard Sarah DeShone said. "I know we are all very anxious to get started, though.
Although the gap is not an ideal situation for a team, there are still advantages to having a break that extends so long after their first game.
"We are able to break down each aspect of the game more and emphasize the areas of our game as a team where we need improvement," sophomore guard Dena Droste said. "It also helps us to get use the way each of us play before the season starts."
Droste also said, "The disadvantage would be that we can't get into the game flow. Practices are a lot different than games, such as the environment, length of play and personnel match ups."
Ferris played a scrimmage against Hope College Nov. 8 to keep the competitive drive flowing. Ferris had a minor set back when  freshman guard Ally Christman injured her left ankle. The injury happened while going up for a rebound.
Other than the injury, the ladies kept up with Hope College and formed a strong defense.
"The scrimmage is a huge advantage to our team because now we can pinpoint some key areas that our team needs work on." DeShone said. "We wish we have at least another scrimmage to play to polish it all off before the first official game, but film is all we can go off of."
During this downtime, the team is spending a lot of time learning about each other and their head coach Colleen Lamoreaux.
"She focuses on the fundamental and little things because those are what lead into fast breaks and strong scoring opportunities on the offensive end. She's tough because she stresses all aspects of the game, but that's why she gets the most out of every player," Droste said.
The Bulldogs will not play a home game until Dec. 5 against Lake Erie at 6 p.m.