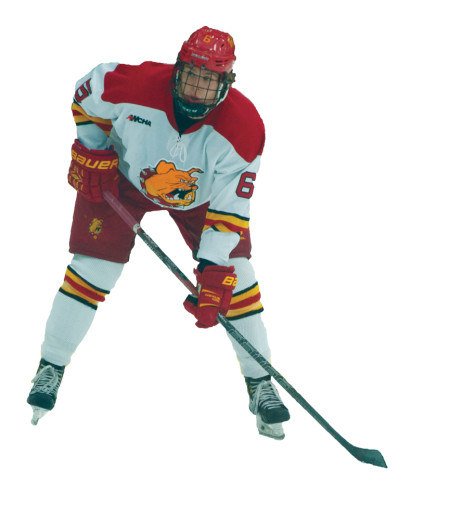 The Ferris State Hockey team is undergoing a youth movement that has reenergized the Bulldogs.
Freshman forward Kyle Schempp is giving the Bulldogs a push that now has them atop the new Western Collegiate Hockey Association and ranked No. 14 in the Nation after their second conference series.
The 6-foot-tall, 178-pound freshman has played an expansive role effectively. His four goals and three assists have him tied for fourth on the team in points. Schempp has played in all nine games so far and is the only freshman to do so.
"I think the first year playing in the NAHL [Traverse City 2011-12] was really the first step towards playing college hockey," Schempp said. "I think last year [USHL Sioux Falls] was a major step that I grew physically and more mature on the ice and it really helped me develop my game."
Ferris is known more for turning raw talent into solid players than it is for bringing in flashy college prospects, and Schempp has fit the bill in just nine games.
Schempp posted 14 goals and 27 assists in his most recent stop with the Sioux Falls Stampede in 64 games where he helped them to their winningest season in team history.
Despite the winning ways he experienced, he was used to being in the top talent pool much farther back than juniors.
"I'd say I had a standout year when I played travel hockey in Midland," Schempp said. "Probably sixth or seventh grade where I could start seeing maturity differences skill-wise between the other players. That's when I decided I wanted to take the next step in hockey."
Schempp sees time as a top-nine forward on a nightly basis and most importantly is showing statistical growth.
His growth is beginning to supplement the team when their most dependable scorers have started the season slowly, which has allowed them to burst ahead of the pack after just two conference series.
"Kyle has a very good work ethic," roommate and fellow freshman forward Chad McDonald said. "When you mix that with his physical and mental abilities it creates one scary player for the opposition."
Schempp's acclimation to the team has been made easy, as he has identified with head coach Bob Daniels.
"I love him; I think he's a great coach," Schempp said. "He's a player's coach; he's not going to play mind games with you where you don't know what he's doing. He never yells really; it's really a learning communication process. No one really likes to get screamed at."
Schempp recently earned WCHA Rookie of the Week Honors following the Bulldogs' Nov. 1-2 series at Alabama-Hunstville, where he posted a goal in each contest.
Though generally quiet, McDonald admits his roommate has a lighter-spirited side.
"I would say he's a mix between the two. He'll crack some jokes with the guys and engage in conversation," McDonald said. "But he's also able to change gears when it comes time to focus and get prepared.
The Bulldogs will play their second straight home series vs. Bowling Green State University on Nov. 15-16, where Schempp's perfect attendance in the line up will be on the line.