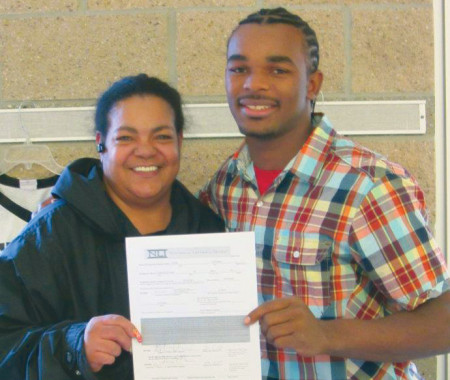 Red-shirt freshman tailback Kitwana Clark is running toward success in college football with a purpose. That purpose is family.
Clark is undecided in major but interested in integrated studies with emphasis on performing arts.
The 5-8 freshman grew up in the projects of Grand Rapids without his biological father around to help raise him. His mother, Sonae Clark, battles severe chronic nerve pain and arthritis, but was still able to raise Kit and his six siblings in a happy family home.
"My mom is one of my biggest inspirations," Clark said. "Growing up my mom had and still has a lot of health problems; in fact she almost passed away around my birthday in 2005. She is one of the strongest women I know and I couldn't imagine my life without her."
Because of her health problems, Clark's mother couldn't attend his games all the way through middle school. When Clark hit high school she was able to finally watch her son play on the gridiron for the first time during his freshman year, solidifying the importance that football had between them.
Clark went on to have great success as a running back at Kenowa Hills High School and finished out his career as a Knight with 1,740 rushing yards and 21 touchdowns his senior year.
"What [Sonae] instilled in him is a love for the game, and she made sure he did the best that he can do," Kenowa Hills head football coach, Scott VanEssen, said. "He was a kid that wanted to get better and get himself stronger. He did all the things necessary to play at the next level."
His performances throughout high school earned him recruitment from schools like Western Michigan and Central Michigan University. Despite being lured by Division I schools, Clark chose the crimson and gold as his next football adventure.
"He is a great athlete, and we thought it would take him a couple years to get acclimated to the offense, but he actually ended up literally dominating on scout team," Ferris State running backs coach Brad Corpe said. "He is going to have a very bright future here, and he has the ability to be one of the better running backs that's ever played here. He is a true Bulldog, through and through."
Corpe, who previously was a coach for Forest Hills Central High School, coached against Clark in high school and now has the fortune to guide the young talent to success as a Bulldog.
To go along with Clark's demeanor on the field, he may be one of the most interesting characters off of it, as he is a strong enthusiast of performing arts and actually teaches dance. His "happy-go-lucky" attitude and constant smiles have led to many of his fellow teammates gravitating toward his personality.
"He is like my little brother now," junior running back Jamaal Jackson said. "He is a cool cat, and he's weird but well- rounded. He's a football player, a dancer, an actor in plays and he raps and sings. I would go to war any day with him by my side because I know he is the type of guy that would give everything he has for you."
With three years of eligibility still left for him to play football, Clark certainly has a bright future ahead of him, but remembers where he comes from.
"In football I want to reach the top, and at the end of my career have people remember me as a player who gave all the glory to God and was in it for the right reasons," Clark said. "My mom has supported me in football and everything I do. I am proud of her."