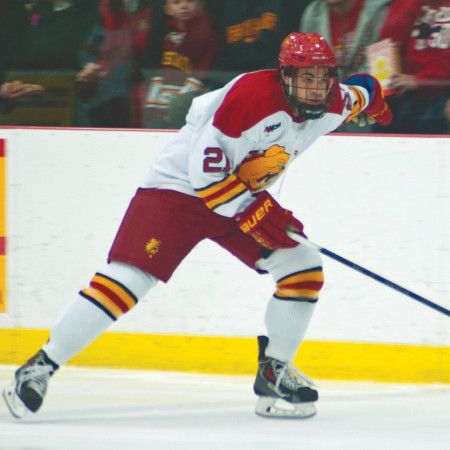 Ferris State Hockey's Justin Buzzeo has burst into the spotlight on the stat sheet in the first ten games of the season.
Buzzeo has six goals under his belt, which supplement his 14 points. He is ranked at the top of the Bulldogs' scoring sheet this season.
"I feel as though the coaches have given me a larger role on the team this year, allowing me to produce more," Buzzeo said. "Confidence is key. You can't overthink the game; you just have to go out there and play."
The junior forward had five goals all of last season, and he was ranked eighth in scoring on the team.
"Buzz has been working hard in the offseason and came into this season prepared," senior forward Garrett Thompson said. "He has always had a scoring touch, and with development, he has produced this year for us."
Buzzeo's first goal of the season was in Hamilton, New York, during the Colgate series. His next two goals happened on Bulldog ice during the games against St. Lawrence, which sparked his scoring outburst.
The top line usually has Buzzeo playing with senior forwards Justin DeMartino, who is currently injured, and Thompson.
"Buzzeo's scoring skills have always been there," DeMartino said. "He just seems to have much more confidence this season."
Confidence is a key element to helping the performance of any player, but so is the chemistry between players. If a team or a line lacks these two qualities, it will reflect in stats.
"We have great cohesion and that really translates to great play on the ice," DeMartino said. "We know where each other are always going to be. Our team this year has really matured since last season."
Head coach Bob Daniels has the team practice "batting" the puck net so the players understand not every goal is going to be pretty, and Buzzeo has excelled in that aspect.
Though it is early in his career as a top flite scorer, Buzzeo has a drive to continue beyond his collegiate career.
"Hopefully one day I will be able to have a career in hockey," Buzzeo said. "With that I think that my work ethic has improved, really focusing on getting better everyday. You have to make the most of your opportunities when you get them, and that's what I am trying to do right now."  
The Bulldogs' leading scorer also has eight assists. Thompson and Buzzeo have seemed to sharea love and knack for feeding the puck to one another when on the ice together.
"I think our chemistry has developed from our off-ice relationship," Thompson said. "Our connection on the ice is based on our familiarity with each other and just the fun of playing the game. When you're having fun, you're playing your best hockey."
With the Bulldogs' hockey season in full swing, Buzzeo still has plenty of time to continue his success and grow as a player.
DeMartino included, "The sky is the limit for Justin. He is a great player with an incredible skill set. I see him as a top ten player in points his next two years."