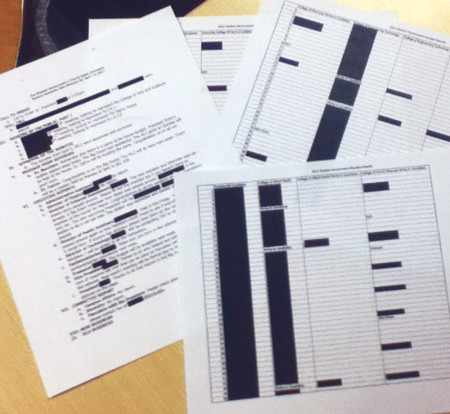 Ideally, the middleman exists to make things run smoothly, but sometimes he messes everything up.
In the case of the student government presidential election results, the middleman, known here as the administration, can be thanked for the latter.
Prior to Thanksgiving break, Torch staff members met with representatives from the student government executive board, including incoming-President Andrew Kalinowski, to discuss the relationship between the two organizations. Director of Public Relations Carman Plank suggested the meeting.
It wasn't long before the election results and subsequent Freedom of Information Act request were brought up.
Kalinowski, who will be taking over for Erin Williams, started the conversation by thanking the Torch for its coverage of student government. He recognized the importance of a newspaper on a college campus, especially when it comes to informing students about the activities of high-profile organizations like the one he soon will be leading.
After establishing his appreciation, Kalinowski said because student government and the Torch both strive to serve the students, it only makes sense for our organizations to have a working relationship. He promised openness and transparency from that point forward.
In the spirit of our new working relationship, I asked Kalinowski and Plank, who was also present, if they had ever seen the FOIA response the Torch had received from Vice President and General Counsel Miles Postema—the middleman. Because the names of the presidential candidates had been redacted (in order to adhere to FERPA, according to Postema), the Torch was still unable to report the election results.
Kalinowski and Plank, whom had never seen the response prior to it being sent to the Torch, said they couldn't understand why the names had been redacted. Postema had asked Plank to compile the information the Torch was asking for and said he would handle the situation from that point forward.
Surprised that student government had been so unceremoniously cut out of the loop, I explained to Kalinowski and Plank that the Torch needed the candidates' names in order to report the results. So, right then and there, they told the reporter working on the story who the past five student government presidents had been.
At last, eight months after the Torch's initial request, we finally had answers.
So, if getting the answers was as simple as a half hour chat in SRC 102, what took so long for this to happen? The answer: the middleman.
From the beginning, the administration has overcomplicated this situation. The Torch tried to talk to everyone from deans to directors to vice presidents. We were even forced to appeal to Ferris President David Eisler.
The Torch contacted administrator after administrator and got nowhere.
Yet, as soon as the Torch sat in a room with student government representatives, we were able to get the answers we needed to inform readers.
Of the three parties involved in this situation—the Torch, student government and the university—it appears only two are fulfilling their promise to serve students.