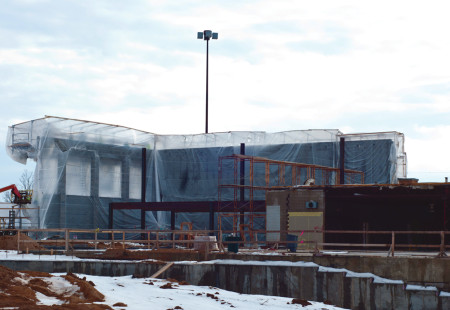 At a budget of $33.9 million, the new University Center renovations remain on track for completion set for December 2014.
Vice President and Director of Division of Administration and Finance Jerry Skoby has been overseeing the renovations of the new University Center. Skoby has supervised renovations for the Rock Café, East Campus Suites and the Michigan College of Optometry in the past.

"Roughly $21 million is coming from reserves the university esatablished over time to fund this project," Skoby said. "The balance up to $13 million will be financed through the sale of tax exempt bonds."
According to Skoby, the University Center is on its projected schedule to be finished by December 2014 and opened for campus use in January 2015.
So far no changes need to be made to the budget, as most of the parts of the project fall within the given budget, according to Skoby.
"There are always some surprises on a project of this size, particularly with renovation projects," Skoby said. "[But so far] there have not been any major surprises."
As a part of staying on schedule, contractors took off approved holidays but worked through the winter break period.
A food venue designed to provide high quality food like at the Rock, will be one of the many new assets to the University Center. The food venue will include new a la carte options and have take-out available.
"We anticipate that this will be popular with persons that may be having meetings in other spaces in the building but want to have food or beverages with them," Skoby said.
Ferris sophomore graphic design major Dusti Manning has been eating at West Side Café this year because of convenience and location.
"I get the feeling of a high school cafeteria in West Side," Manning said. "It would be nice if the new dining hall had more of a modern feeling to it. Just something new and different that would make me want to walk across campus to eat there."
Other attributes to the new University Center will include a newly renovated bookstore, meeting rooms, office spaces for student organizations, and a 24/7 Information Center including computers and printing center.
"We heard from many across campus that there was inadequate parking to support the former Rankin Center and so this has been a critical part of the overall project plan," Skoby said.