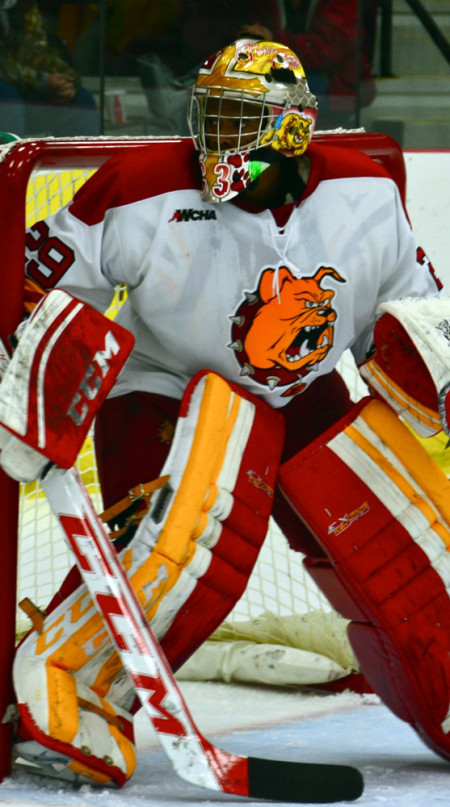 Ferris hockey's CJ Motte is fifth in the nation in minutes played this season.
Had the junior goaltender started on Jan. 25 vs. Michigan Tech, he would be just six minutes behind second in the nation in minutes played.
That was not the case during the Saturday night series finale against the Huskies. Instead, sophomore Charles Williams took to the crease.
Motte had left both of the last two games, the first after giving up five goals to Minnesota State and the second after being involved in an altercation after the whistle that blasted 41,000 hits on the initial youtube post.
Williams was fresh and it showed. He charted his first career shutout in a Bulldog uniform en route to a 3-0 victory.
After the game, strength and conditioning coach Dave Cencer exuberantly raved about Williams and his performance.
"He did a great great job," Cencer said. "I'm so happy for him. Literally, I couldn't think of a better kid; he's such a great person and such a hard worker."
The boost Williams gave the Bulldogs makes Ferris an even scarier look to the country.
"We don't really think of him as a backup because he is so good," Cencer said. "During practice throughout the week is when we get to see him and the fans don't. We're just accustomed to seeing him play like he did tonight."
Though Motte has a much bigger sample size, Williams cements the fact that Ferris has one of the best goaltending tandems in the nation.
Head coach Bob Daniels has leaned heavily on Motte due to a 16-game undefeated streak that stretched 77 days and ended on Jan. 5, in which Motte started every game.
Motte has started 59 games since the beginning of last season, which puts him on pace to reach nearly 100 by the end of his career as a Bulldog.
Williams, better known as "CW3," may help lighten the load for one of the nation's most often called-upon goaltenders to keep him fresh for the playoffs following his 25-save performance on the road at Michigan Tech.
"All I know is if he's called upon, he will be ready," color commentator Danny Kowalski said. "He's a hard worker; could easily be a number one goalie on other teams."