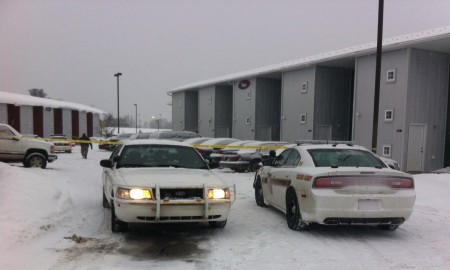 UPDATE: 11:17 a.m. Saturday, Feb. 1
Due to an off-campus shooting involving students, all activities scheduled on the Ferris campus have been canceled or suspended today, Sat. Feb. 1.
Ferris DPS and Big Rapids DPS are investigating a shooting that occurred at Venlo Place Apartments in the early hours of Saturday morning.
A male, who police believe is a Ferris student, has been hospitalized after being shot at 4:15 a.m. on Feb. 1.
The shooting suspect is described as a tall, black male with dreadlocks. Police have contained an area on campus near Finch Court where the shooter is thought to be located. No word on whether the suspect has been apprehended.
Police have scheduled a noon press conference.
Ferris senior criminal justice major and Venlo resident Brenton Tait said a party was held at Venlo last night where police told him the shooting took place.
Police have blocked off apartments 4 through 14 as part of the investigation. Individuals with vehicles parked outside those apartments are not permitted to move their cars at this time.
Ferris senior social work major and Venlo resident Christina Delgado, whose vehicle is parked in the contained area, is unable to get to work due to the investigation.
"I didn't know anything about a shooting until I walked out my front door," she said. "I'm just wondering when I can leave."
Venlo property manager Becky Wilkinson said the incident happened after security had left for the night.
"We try to do the best we can to protect the students," she said.
Wilkinson said Venlo will need to reevaluate its security measures.
Police have advised students and residents in the area to stay inside and use extreme caution. Anyone with information is asked to contact Ferris DPS at (231) 591-5000.
This story will be updated with more information as it becomes available. Torch staff members Lindsey Hogan, Taylor Hooper and Alex Wittman contributed to this story.