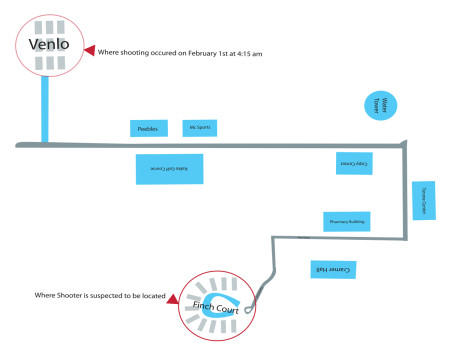 UPDATE: 11:55 a.m. Saturday, Feb.1
The suspect involved in the Venlo shooting has not been apprehended.
Officials at an 11:15 a.m. Saturday, Feb. 1 press conference reported the vehicle the suspect is believed to be in has been located less than a mile from where the shooting occurred. Big Rapids DPS and the Mecosta County Sheriff's Department are on the scene.
The suspect is described as a black male with dreadlocks approximately 6 feet, 150 to 170 pounds and 20 to 22 years old.
The victim was taken to Spectrum Health Butterworth Hospital in Grand Rapids and is being treated for gunshot wounds to the arm and abdomen.
Although police are unsure of the victim and suspect's relationship, they believe the shooting, which occurred in the Venlo parking lot, wasn't random. Officials said the shooting followed an altercation between the suspect and the victim.
"Big Rapids is a very safe community," Director of Ferris DPS Bruce Borkovich said. "When something happens, it's shocking to us."
Due to the shooting, all activities scheduled on the Ferris campus have been canceled or suspended today, Sat. Feb. 1.
A male, who police believe is a Ferris student, was shot at 4:15 a.m. on Feb. 1.
Police have secured what they have identified as the crime scene in the Venlo parking lot outside of apartment 57 near the complex's entrance.
Venlo Place is located on the north side of Perry Street approximately midway between Highway US 131 and the main campus. Venlo is a multi-building off-campus student housing complex across from Katke Golf Course.
Individuals with vehicles parked outside those apartments are not permitted to move their cars at this time.
Venlo property manager Becky Wilkinson said the incident happened after security had left for the night.
"We try to do the best we can to protect the students," she said.
Wilkinson said Venlo will need to reevaluate its security measures.
Police have advised students and residents in the area to stay inside and use extreme caution. Anyone with information is asked to contact Ferris DPS at (231) 591-5000.
This story will be updated with more information as it becomes available. Torch staff members Lindsey Hogan, Taylor Hooper, Kaila Parent, Ben Rettinhouse and Alex Wittman contributed to this story.