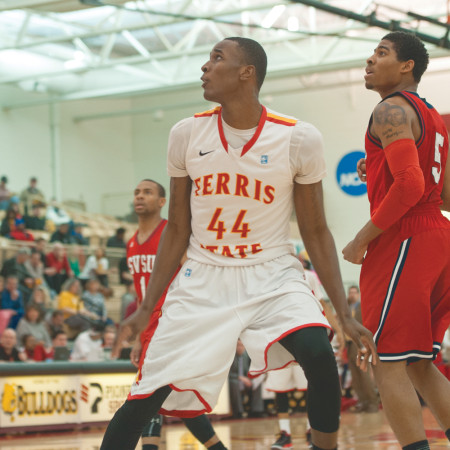 Raymoan McAfee
Senior
FSU Men's Basketball
Senior forward Raymoan McAfee closed out his Bulldog career with a solid performance as Ferris State downed the Cardinals in the season finale.
Despite playing off the bench for most of the season, McAfee got the starting nod at the center position in the Bulldogs' senior night matchup against Saginaw Valley on Saturday, and his presence was felt immediately. With only two minutes absent from the clock, McAfee viciously stuffed a Cardinal lay-up as he picked up his first of two blocked shots on the night.
McAfee, 6-foot-7 forward, grabbed six defensive rebounds. His performance helped Ferris cruise past SVSU 78-66, finishing with nine points, six rebounds, two blocks and a steal.
The Bulldogs finished their up and down season 10-16 following Saturday's victory. McAfee was able to finish out his Ferris State athletics career on a high note as he finally hangs up the number 44 jersey.
"I will truly miss performing for them [Ferris fans]. They played a huge part in the reason I played so well," McAfee said. "I didn't want to let the down because I care about them."