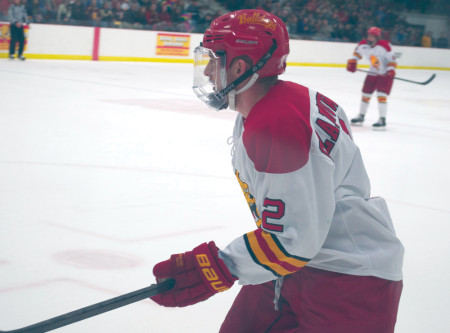 Scott Czarnowczan
Senior defenseman, Captain
Ferris Hockey
The Ferris Hockey captain put a storybook ending on his career on Ferris ice on March 15 against the Bemidji State Beavers in the playoffs.
In game two of the best-of-three first round of the WCHA playoffs, Czarnowczan was out killing a penalty in extra time.
Czarnowczan scored a shorthanded game winning goal from the blue line in double overtime eliminated the opposition from the playoffs. This is how the captain ended his final game in Ewigleben Ice Arena.
After the game, Czarnowczan said that it hadn't quite hit him yet, but that it was a "fairytale" ending at this point in his career.
The senior also had two assists in the series-opening 8-0 win over Bemidji on March 14 and finished as a +6 in the series.