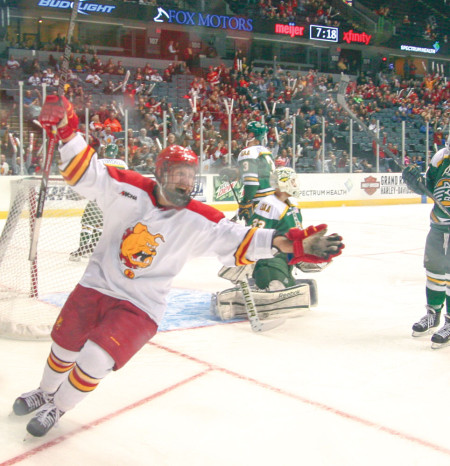 Gerald Mayhew
Freshman forward
Hockey
Mayhew came up big for the Ferris hockey team in the WCHA Final Five playoff games in Grand Rapids this past weekend.
Mayhew started the game off with a power play goal against Alaska Anchorage and sent the Seawolves packing with the game-winning overtime goal to bring the Bulldogs to the WCHA finals.
The freshman forward also scored the Bulldogs' lone goal in a 4-1 loss to Minnesota State in the WCHA Finals. With his efforts in the playoffs, Mayhew was named to the All-Tournament team.
Mayhew has 18 points on the season. Included in those 18 points are his seven goals on the season, three of which came this past weekend.
The term "GERRY-TIME," a play on Mayhew's first name, was retweeted 206 times this weekend following his goals.