Ferris junior goaltender CJ Motte was a freshman back-up goaltender the last time Ferris went to the NCAA Men's Div. I Hockey Tournament.
Now, he is the starter, and it showed on March 28 in US Bank Arena in Cincinnati in Ferris' 1-0 NCAA Midwest Regional semi-final victory over the Colgate Raiders.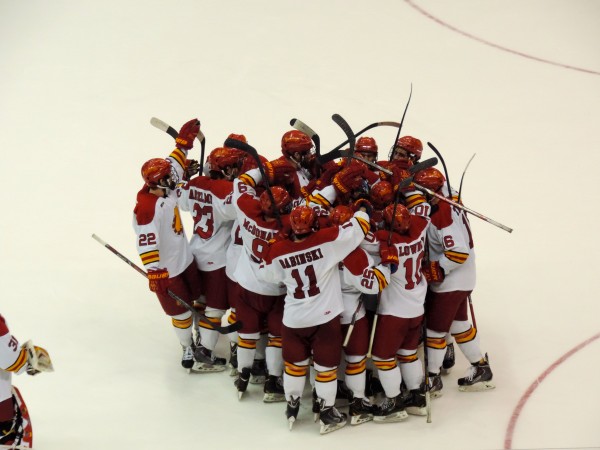 Despite sitting behind graduated All-American goaltender Taylor Nelson the last time Ferris reached the NCAA tournament, Motte was just as prepared in his own mind.
"I haven't talked to him, but I learned a lot from him," Motte said. "Just being there my freshmen year just kind of seeing the atmosphere helped me. I knew what it was going to be like, so I didn't really have any nerves going into this one as funny as that may sound."
Motte posted a 35 save NCAA-Tournament shutout en route to the 1-0 victory.
"He's always good," Ferris senior captain and defenseman Scott Czarnowczan said. "Today he did real good with his rebound control, it helped us out a lot defensively."
Ferris senior forward and assistant captain Garrett Thompson also had praise for Motte.
"CJ Motte is an outstanding goaltender," Thompson said. "Getting in front of shots makes his job a little bit easier. Guys are just going to sacrifice any limb at this point of the [season]."
Though Motte was the recipient of the shutout, it was a team effort. Ferris sophomore forward Kenny Babinski took a slapshot to the top of the foot, junior forward Justin Buzzeo dove to knock a puck out of the zone at the end of a long shift.
"We pride ourselves in the little things," senior forward Cory Kane said. "We pride ourselves in the [defensive] zone and this is playoff hockey, anything can change the game."
Ferris freshman winger Gerald Mayhew was the offensive hero again for Ferris, scoring his fourth playoff goal in three playoff games, and for the second time in the playoffs his stood for the game winning goal.
Mayhew's hashtag, #GERRYTIME, which was tweeted by @FerrisHockey after he scored in overtime against Alaska Anchorage in the WCHA Semi-Final on March 21, has taken off. It has been tweeted and retweeted over 300 times within the last three games alone
"I think the hockey god's just got my back right now," Mayhew said. "I'm not complaining."
The goal came at 10:01 of the first period when on a line with senior forward Andy Huff as well as Kane, when a puck popped up in the air and Mayhew batted it in on the fly.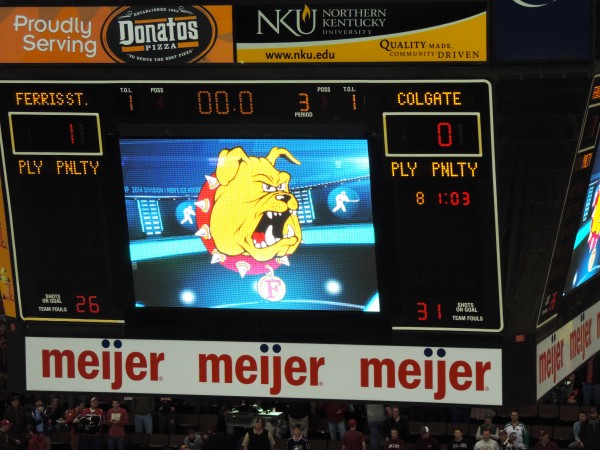 Ferris will play North Dakota in the Midwest Regional Championship. North Dakota and Wisconsin were tied in the final two minutes of regulation when they took a late one goal lead and then added two-empty net goals to take the contest 5-2 over the Badgers.
The puck drops at 6:30 p.m., and Buffalo Wild Wings in Big Rapids will be playing the game. The game will be on ESPNU, and can also be found using the Watch ESPN App on your smartphone or tablet.