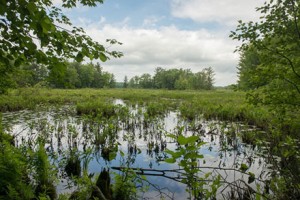 The Axtmann Nature Preserve, donated by Ethan Axtmann and Aleta Hursh to Ferris, will provide a unique, hands-on learning experience for the university's students for years to come.
Axtmann and Hursh inherited the one-hundred-and-ten acres of property in 2000 from their parents, the late Harold and Pauline Axtmann. When they made the decision to relinquish the land, Biology professor Dr. Gary Rodabaugh knew it could be beneficial to Ferris students. He lives right next to the nature preserve and was involved in negotiations, working to persuade the brother-sister duo to donate the property to the university's biology, geology, and surveying departments. He has already taken a few of his classes to visit the land.
The university's ownership of the property was initially met with reluctance from local residents near the nature preserve who were concerned that they would no longer have access to the land. It has since been made clear to them that they may legally visit the property so long as there is no logging, hunting or camping.
As undeveloped land, the property has little monetary worth, but Rodabaugh believes it has rich educational value. The land is approximately half upland trees and half wetland, providing two distinctly different habitats that are home to a wide variety of flora and fauna. Students can observe undisturbed wildlife (including freshwater jellyfish, raccoons, flying squirrels, turtles, frogs, at least twenty different kinds of birds and "a bear that wanders through every once in a while") and trees that are hundreds of years old. "It's cool to see the looks on the kids' faces," said Rodabaugh, "City kids haven't seen anything like this. And you can see all the stars, because there's no light pollution."
At least ten classes will be making use of the nature preserve this semester, mostly field courses, like ornithology, botany, environmental biology and forensic biology. Since the Axtmann Nature Preserve is located fourteen miles from campus, students can rely on the biology department's two twelve-passenger vans for transportation.
Though one of the conditions of Axtmann and Hursh's agreement with Ferris is that the land remains untouched, the university was granted permission to build a single classroom structure. They are hoping to include a laboratory and possibly overnight facilities in this building.
Professor Rodabaugh sees this project as one of his most important work-related achievements. "I'm very proud that I was able to negotiate a piece of property that will benefit Ferris students forever," said Rodabaugh, "If I had to do one thing before I retire, that was the thing. My job is to make sure everything is possible for my students."
Students who wish to learn more about the Axtmann Nature Preserve can contact the Ferris Foundation at (231) 591-2365 or fsufdn@nullferris.edu.