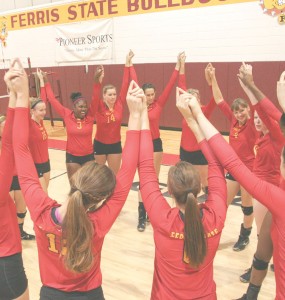 Ferris State volleyball heads into the new school year with hopes of recreating last season success as the regular season looms.
The Bulldogs finished up the 2013 volleyball season with a prolonged run into the postseason. A loss to BYU-Hawaii in the NCAA DII Midwest regional semifinals ended their stellar run and capped off their 25-9 season. Now that summer is winding down and students are flooding in to campus, Ferris' squad is ready to hit the court and compete in the 2014 campaign.
"Our team has a great work ethic, and our roster consists of extremely hard workers," junior middle-outside hitter, Claire Grawburg, said. "We are Bulldogs, we fight for each point and we want to provide our fans with a good volleyball match that ends with the Bulldogs being victorious. Replicating last season isn't the go although, we want to go further."
Even though reproducing last year's success is not the main focus, it's hard to not refer to their prior seasons achievements. Ferris won seven of their first ten contests to kickoff the 2013 regular season, and lost back-to-back matchups once. The campaign also saw the team achieve winning streaks of four and five games, not including a dominant eight game run from October 13th through November 10th.
This summer saw Ferris State's roster evolve as they lost seven players and added at least four following the 2013 season. The Bulldogs roster losses came at the hands of six seniors finishing their playing careers and at least one athlete, former Ferris outside hitter Kate Pretty, to a transfer. Ferris State, though, did add four freshman signings in Laura Raminga, Nicole Malouhos, Maria Kronner, and Ayanna Buckley to help fill in the vacant spots.
"I think that we will have a great season this year and I'm excited to be working with a group of girls that share the same passion as me to reach the same goal," Buckley said. "I see myself working as hard as possible and giving 110% on and off the court to be the best I can in order to contribute to the team's success. I know that we're in a pretty challenging conference and we all want the big title so each game should be challenging."
The Bulldogs will open the season at the Tampa Invitational in Tampa, Florida from September 4th through the 6th. The season's first home contest is slated for September 19th against Walsh University as the Bulldogs will open their first two-game home stand against Walsh and Malone, respectively.
"(The team should) approach each game the same way, whether the opponent is ranked first or last," junior middle-hitter, Courtney Rehm, said. "You will see the exact same team you saw at the end of last season. Our plan is to go forward, not backwards."