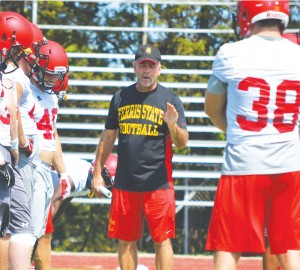 With football season just around the corner, the Ferris State football team looks to make improvements upon an 8-3 record from a year ago and make a run at the GLIAC Title.
Expectations are high this season for the Bulldogs as they began fall camp with their first practice of the 2014 season that started on Thursday, August 14th. The Bulldogs will return seven preseason NCAA Division II All-American and 14 starters from last season's squad.
"The biggest thing from last season is that we pick up where we left off. We can't take any steps back," said sophomore running back Kitwana Clark. "We have a lot of talent on this team. Everyone has to play their role, know their role and just make it happen. No steps back."
Among the returnees is Preseason All-American quarterback Jason Vander Laan. As a sophomore in the 2013 campaign, Vander Laan finished the season with 1,607 yards on the ground, breaking the NCAA Division II all-time single season record. Named as an All-GLIAC Second Team member, Vander Laan is excited for the potential of the team heading into the 2014 season.
"This year's team has a high excitement level to it. We're all ready to play right now and we have a different mindset this year than in years past," Vander Laan said. "We know how much potential we have. We've had one or two losses in the past couple of seasons that we shouldn't have had. We need to make sure we are ready for every game and if we play to our potential we can beat anyone. We're gonna set the goals high, but I think we'll be in position to make a run."
Vander Laan also stated that the team has been working hard all summer to make sure they put themselves in position to win. Without the coaches around prior to training camp due to NCAA rules and regulations, Vander Laan has been joined by a group of 44 Bulldogs during the offseason who lifted every day during the week and ran seven on seven drills two days a week. The junior signal caller also put a lot of emphasis on improving leadership, playing off of the wishes of his head coach.
"Coach Annese has been really stressing leadership this offseason and developing to be a better leader. Last year we were too much of a run oriented team so working on the passing game has been big this summer, too," said Vander Laan. "If we spread the ball around and are able to pass more it'll make us a lot harder to defend."
Both Vander Laan and Clark had similar takes on the biggest focus during the offseason for the Bulldogs, team chemistry and leadership.
"Besides working out, the main focus was to really reach out to more teammates and get to know them better," said Clark. "Our team chemistry is very important and will be the key to our success this season."
One setback the Bulldog's will face this season is the departure of defensive coordinator Lou Esposito. Esposito left Ferris State to become the first head coach of the Davenport University Panthers. Although the position has yet to be filled, players believe the position will be filled within the existing coaching staff.
"We are doing very good so far in camp," said senior defensive end Carlton Johnson. "We all know what the defensive plan is and know our responsibility so we are confident. Espo was a good coach, but the position more than likely is going to be someone within the staff."
The Bulldogs first game is slated for Sept. 4 at McKendree in Lebanon, Ill., with kickoff scheduled at 8 p.m. The Bulldogs first home game of the 2014 season will be against GLIAC rival, the Lakers of Grand Valley State University on Sept. 20. at 7 p.m.