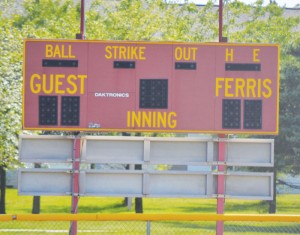 Two Ferris State sports will see improvements in their scoreboards, revamping the experience for both players and fans.
Both Bulldogs volleyball and softball's scoreboards will be renovated eventually, adding to the overall atmosphere of attending one of their home games. The scoreboards now are simple and lack modern upgrades that are frequent around sporting venues today.
Thanks to the administration, including senior women's administrator, Sarah Higley, Ferris State was able to renovate the scoreboards to make them brighter, colorful, and school spirited.
Once the administration realized they had enough money in the budget to start creating a better ambience at games, they recognized that the scoreboards were going to be the first thing to change in the gyms and on the fields.
Last year the football team was granted with a whole new scoreboard and now it is time for volleyball and softball to experience the same excitement.
"(The scoreboard) will make the fans feel more involved and more informed. I do know we will have stats that scroll through, along with a rolling banner," junior libero, DeDee Dowd, said. "The fans will come because of our skill and because we are fun to watch. It will be a bonus that they also get to enjoy the new scoreboard."
The attendances for the games are expected to increase, not only for the talent of the lady Bulldogs, but also for the new renovations and the added involvement within the games.
The softball program will not be receiving a whole new scoreboard; however, there are plenty of additions to repair and make the old scoreboard look completely new.
"The scoreboard is being repaired to look sharper and actually show the right score," said sophomore catcher/third baseman Sydney Hasselbach. "It will also have all the stats displayed."
Ferris State's women's volleyball program will show off their new scoreboard at their first home game on September 19 against Walsh at 7:00 p.m.
The renovations for the softball scoreboard will not be able to be used until next spring when the Bulldogs start their 2015 season.