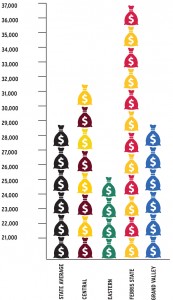 Aside from mortgages, America's $1.2 trillion in student loan debt is higher than any other type of consumer debt. Student loans can put huge economic stress on college graduates eager to begin their careers. Despite inevitable financial burden, a huge importance has been placed on receiving a college education. So in this period of rising prices, at what point will the buyers stop buying?
Some speculate that we are approaching an economic bubble that could see the price of tuition collapse. But, most student loans are given through the federal government. Conveniently, failure to pay back these loans is forgiven and the costs are absorbed by the government rather than the private sector; so this financial crisis might not reach the proportions of the 2008 housing bubble, but there is plenty of cause for concern.
A 2013 report from The Institute for College Access & Success (TICAS) Project on Student Debt shows that 71% of college graduates carry some form of student loan debt. Those 7 out of 10 graduates might not be as likely to invest in real estate, buy a car, or start a business. Struggles like these could have a deep impact on GDP and the post-recession economy.
Here at Ferris, TICAS found that average loan debt per student is $36,930. Ferris is a career-oriented University as reflected in its massive internship placement, but many still find it difficult to navigate through more competitive job markets.
One such person is Jared Lucas, Ferris alum with a degree in Music Industry Management. After graduation, his internship with Studio Barbarossa in Orlando, Florida advanced into a position as an assistant recording engineer, working with acts such as Slash, Alter Bridge, and Falling in Reverse. In the midst of this success, he's struggling because of debt.
"I can't fully commit to starting my career," Lucas said. "Besides rent, my student loans are my biggest bill each month. It has forced me to take on a second job."
Splitting his time between jobs, Lucas has found it difficult to put the necessary time into networking and improving his skills.
Another reality of the student debt crisis is that a lot of today's workforce is overqualified. According to the Bureau of Labor Statistics, 37% of employed college graduates are in fields of work requiring only a high-school diploma. This isn't to say that a college education can't be beneficial, but in regard to debt-to-income ratio, return on investment is questionable. If this trend continues, student loan debt could greatly contribute to the widening wealth gap in the U.S.
With no clear idea of what the implications of this crisis may be, student debt has sparked a lively political conversation over the past few years. In June, President Obama signed an executive order that will allow over 5 million people to put a cap on their student loan payments at 10% of their income. Additionally, the President aims to renegotiate contracts with private loan servicers and spread awareness about the importance of understanding complicated loan terms. During a weekly address in April, Obama stressed that "in America, higher education cannot be a luxury."
The student debt crisis is far from over. Key investments are dwindling and jobs are scarce as this generation's bright minds hope to enter a workforce of great opportunity. While close to 37 million people have outstanding student debt, knowing the hard facts about loan terms and interest rates might be just as important as an education itself.