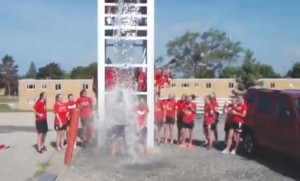 Soccer head coach Andy McCaslin, who is entering his second season at the reigns for the Bulldogs soccer team, recently underwent the "Ice Bucket Challenge."
The challenge that sees people from every level of athletics around the country getting dunked by game coolers filled with ice water, is sweeping social media even at the pro level. The challenge was created to help raise awareness for ALS (Amyotrophic Lateral Sclerosis), as the person challenged has to either donate $100 to an ALS fund or film themselves being dunked.
McCaslin gave himself up for enjoyment of Bulldogs fans as he had a chest cooler full of ice water dumped on him by a pair of his player who were elevated about 20 feet on a platform. McCaslin challenged the Saginaw Valley soccer team as the next to face the ice bucket challenge.