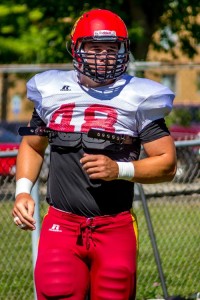 The 2014 Ferris State football team features one student on the defensive line who has proved to be a beast both on defense and in the classroom.
Justin Zimmer, a 6-foot-3, 258 pound defensive end for the Bulldogs, has not only claimed pre-season All-American accolades, but also found himself on the list of Academic All-Americans following last season. Zimmer, like many athletes on Ferris' defense, is entering the 2014 campaign with a mind set that the Bulldogs won't be stopped.
"This year's team has all the pieces and just needs to put everything together and take it game by game, and we shouldn't have a problem," said Zimmer.
Zimmer finished fourth on the team in total tackles in last year's campaign with 57 and also lead the team in sacks with seven and a half. During the season he also added one interception, two forced fumbles and two kicks blocked.
Zimmer didn't start his career as a defensive end for the Bulldogs. His original position was linebacker, which he played at Greenville High School where he helped the Yellow Jackets to a state playoff appearance in 2010 and helped the team to a 9-2 overall mark as a senior.
"I played linebacker in high school, now I'm playing defensive end. It's a totally different game," Zimmer said. "I think I've improved upon every aspect, especially because I basically had no defensive end position skills coming into it. It was the spring of my redshirt year when I decided to make the switch to defensive end. I was by far our biggest linebacker and I just kept growing and decided to make the switch earlier rather than later in my career."
Zimmer was redshirted his freshman year in 2011, but he says it didn't bother him and he knew it would give him a good opportunity to prepare for future seasons.
"Coming into my freshman year I kind of expected to get redshirted. It was a good chance to grow, get in the weight room, and get adjusted to the college game," Zimmer said. "It was a little different at first getting used to being on scout team. The biggest difference is your second year when you get thrown out into a live game for the first time and it's a lot different."
Since the switch the defensive end, Zimmer says he has really been trying hard to work on his pass rush skills and using his hands a lot more to get after the quarterback, as well as getting in the weight room and trying to get bigger and faster.
Off the field, Zimmer keeps his studies on his mind at all times, and it has paid off. He was named an Academic All-American and says he has no one to thank but his mother.
"My mom is a teacher so she has had really high expectations for my grades. I'm not just always shooting for good grades, but it's something that's expected of me. That's just how I was raised," Zimmer said.
Zimmer is a Business Management, Marketing and Technology Education major here at Ferris State. His dream is to play in the NFL someday or become a college football coach. Zimmer says if that doesn't work out for him, he'll be fine with being a high school football coach and teacher.