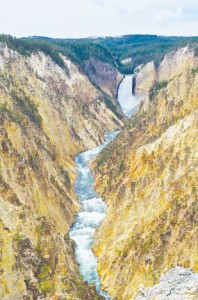 I've lived in West Michigan my entire life and I may be biased but I've always thought I lived in the best and most beautiful part of the country.
Up until this past spring break, the farthest west I had ever been was the east part of Wisconsin. Yes east Wisconsin. 
I've always loved to travel and honestly, your youth is the best and most important time of our lives to travel. Not only is it relaxing and fun, but its eye-opening and a great learning opportunity.
The older we get, the more we get bogged down with life, school and work, we forget to enjoy the simple things in life. New experiences keep us young at heart.
On August 14th, 2014 I flew out to California and met up with my boyfriend, Matt, and we started a road trip across America.
We drove from San Jose, California to Manitowoc, Wisconsin where we got on the S.S. Badger to Ludington, Michigan and then headed over to Big Rapids. The things we saw I will never forget.
The beauty this great country holds is breathtaking. From Lake Tahoe California, Great Salt basin in Nevada and Utah, to the wide-open skies in Wyoming, and magnificent Mount Rushmore, to only name a few of the boundlessly beautiful places in our country.
We even saw outlandish things like the Mormon Tabernacle that looked like an ancient castle smack in the middle of a modern city, and casino gas station combinations in the middle of nowhere.
Through this trip, we did see some unfortunate things as well.  Homelessness and impoverishment was prevalent throughout both urban centers and the rural countryside.
We also saw firsthand the environmental effects of Shale Fracking in the forms of well and pipeline infrastructure, wastewater pits, and lowered air quality surrounding the wells and refineries.
On the other side of the coin, I don't think I had ever seen as many electric windmills as I did while driving thru the Great Planes states. Politics and the environment have been tied hand in hand for some time now, and people's blood pressure does tend to rise when there's jobs and money on the line with regards to environmental decisions.
After taking in the natural beauty of just one interstate corridor of western America, my belief in the preservation of the only home we have as a species is only reinforced.
Situations like these, we don't normally think of while we are in Big Rapids. This is why we need to travel. We need to get out in the world and see what's out there, even though we don't want to think about the unfortunate situations we may encounter.
It is important to learn and travel, to take in the natural beauty of our earth, appreciate the world outside of our normal boundaries. Experiencing these things helps us grow and have a better understanding of the beautiful world around us.