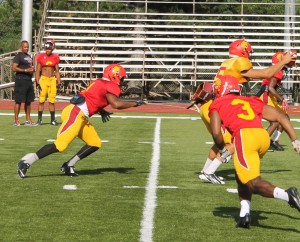 Despite not having played a single snap in game action, freshman running back Robert Thomas III, is turning heads in his first season for the Bulldogs.
In his freshman season at tailback for Ferris State, RTIII  has caught the eye of players and coaches alike. Thomas has been seen frequently lining up behind junior quarterback, Jason Vander Laan, and the rest of the first team offense. 
Listed at 5'9" and a generous 198 pounds, Thomas has been zipping past the Bulldogs defense in practice, earning himself the nickname "Juice" by his fellow teammates. The Bulldogs are hoping his blazing speed on the practice field will translate to yards during the regular season, as he may become the perfect compliment to Vander Laan's bullish ball-carrying.
Hailing from Apopka, Fla., Thomas put up incredible offensive numbers his senior year for the prep high school. In 2013, Thomas earned himself the Florida Class 8A State Player of the Year accolades, along with being among the top eight finalist for Florida's Mr. Football award, which names the states best high school football player overall.
Only time will tell if RTIII's pre-season hype will carry over to into the regular season. Hopes are high, though, that the freshman speedster can help the Bulldogs offense light up the scoreboards in 2014.