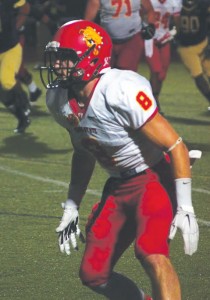 Jake Lampman helped the Ferris State football team steam-roll the Bearcats of McKendree University 75-14.
Lampman went off against the Bearcats, racking up 101 yards and three touchdowns during Thursday nights contest. The effort helped Ferris break single game school records in both points scored (75) and total yards (761).
Lampman's three touchdowns all came in the first half of the match-up against McKendree. The first team offense was side-lined in the second half due to the lopsided score, making way for alternates to enter the game.
Putting their opponent down early, Lampman put his coverman on skates and nabbed a 39-yard seam route from junior quarterback Jason VanderLaan.
Lampman hooked up for a second time with Vander Laan, taking a quick out to the house after dodging four attempted tackles. The score would put Ferris ahead of McKendree 28-7.
Lampman's final scoring grab for the night came off of a floating pass to the back of the end-zone from VanderLaan once again. Lampman made a last second move to gain separation from his defender and tip-toed to keep his feet in-bounds after the catch.
Lampman, and the rest of the Bulldog football team, will next head to Midland to face off against Northwood University on Sept. 13.