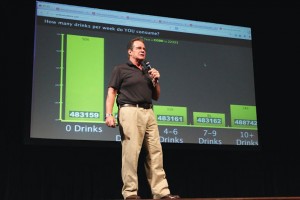 The annual informational program "Beer, Booze and Books" took place last Thursday, presented by Jim Matthews in Williams Auditorium.
With the intent to educate on general effects of drinking too much and the danger it can bring, many students expected it to be boring and "wished they were back in bed," according to the live audience survey via text message that was a continual part of the program.  
However, many students gave more than one laugh during the 50 minute presentation, from short video clips and Matthews' witty comments, not to mention their own anonymous survey results on various topics associated with college kid stereotypes.
While most students voted on the first question that they'd rather "be back in bed," 21 percent of the crowd at the 7 p.m. presentation voted that they wanted to know more about alcohol and the health problems associated with it.
"21 percent… that's good!" Matthews said upon seeing the results on-screen.
According to the "Beer, Booze and Books" website, Matthews, a professional speaker and member of the NCAA Sports Sciences Speaker Registry has given his "Beer, Booze and Books" presentation over 400 times to more than 4,000 students.
"While teaching courses dealing with alcohol and drugs, it became apparent to me that my students lacked fundamental information about alcohol consumption," Matthews said in a statement found on Ferris's page about the event.
The bulk of information in the presentation included how alcohol can lead to violence, regretful choices and sexual assault. How drinking too much can affect your academic and work life, as well as, insight into how addictions are formed were also among topics discussed. Matthews also addressed low-risk drinking and how students can still drink without falling into the traps of addiction or poor decisions.
On answering the survey question about how many drinks each student consumes per week, 47 percent of the crowd voted that they typically don't consume any alcohol during their week, which was good news to Matthews, whether it was accurate or not.
After more laughs, survey questions and solid facts, Matthews closed the program with his own contact information for students and by telling the crowd: "College can be the time of your life, but don't let the time of your life ruin the rest of your life."
"I thought the program was very informative," freshman undecided major Kristen Verrill said. "What surprised me the most was the speaker's humor and the results of the survey about how many students engage in sexual activity."
Freshman pre-medical major Brad Schlieter agreed that the presentation was a good source of information. "I thought it was a good speech to help students have a successful year at college.  It was more of common sense stuff though." Schlieter said. However, it did surprise him how much students actually drink.