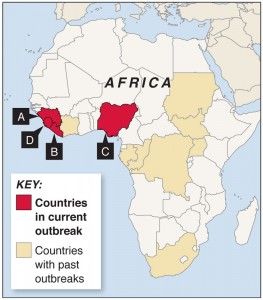 It's what the World Health Organization has called "one of the world's most virulent diseases" and has already taken over 2,000 lives. The Ebola outbreak started in West Africa and has now spread to Nigeria, but experts say that the virus could become a worldwide health crisis if its not extinguished now.
Dr. Keiji Fukuda, a leader with the World Health organization spoke to ABC News about the Ebola virus. "It's at this time that we have to jump on it, because the numbers just keep getting larger and larger," Fukuda says. "It just becomes more difficult to control."
So what exactly is Ebola? The virus is transmitted through contact with bodily fluids, inducing a hemorrhagic fever that attacks multiple organs and causes bleeding. Patients generally report headaches, exhaustion and muscle   aches as early symptoms.
Typically, experts report that up to 90 percent of Ebola cases are fatal, but the aggressive response to the current outbreak in Africa has brought the number of deaths down to roughly 60 percent.
There is currently no cure for the Ebola virus. Though patients are usually isolated and kept hydrated, there is no official treatment for the virus either.
However, CNN reported in August that an experimental drug known as ZMapp was administered to an infected American missionary, Dr. Kent Brantly. Within an hour of receiving the drug, Brantly's condition vastly improved. Another American missionary, Nancy Writebol was soon after treated with ZMapp and received similar results. Brantly and Writebol have since returned to the U.S.
For Nathan Babcock, a junior in the nursing program, the prospect of working in Africa with Ebola patients is both frightening and exciting.
"This is something that people going into the medical field have to be prepared for. There is a high risk of death; all it takes is one wrong move," Babcock said. "I think it would be a good opportunity for a medical professional, so the bottom line is yes, I would go."
For a comprehensive breakdown of the Ebola virus, visit the Birkham Health Center webpage and find Ebola under "Communicable Diseases" at ferris.edu/birkamhealthcenter/.