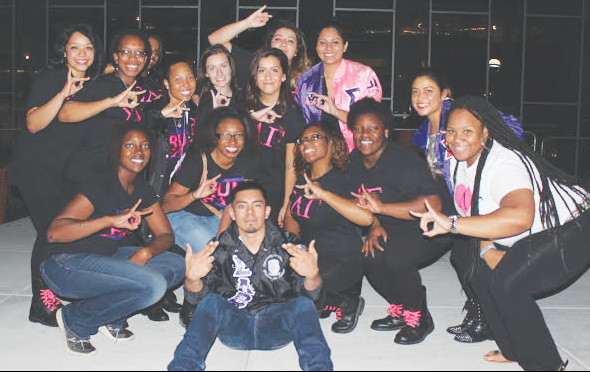 Hispanic Heritage Month has arrived and members of the Hispanic Student Organization are getting underway with celebration and events.
"We have several events going on," Evangelina Guerrero, a junior in business administration and the president of the HSO said. "We just had the festival here in the office. We have Zumba night coming up, where we're going to be teaching students how to dance salsa and stuff like that. We also have a movie night planned, and a piñata night with the sorority Sigma Lambda Gamma, the yard show, and an event called Two Cultures One Struggle, which is linked up with the organization B.L.A.C.K. Those are just a few events going on."
Heritage is very important to the HSO members, and although they enjoy their culture and are proud of their backgrounds, they are welcoming to everyone.
"I feel like the reason people don't branch out to different cultures is that they don't feel welcomed," Guerrero said. "I think branching out is good, so you can see the diversity within an organization. Culture is important because it tells where you came from. I'm really into culture. I'm Mexican, so my roots mean a lot to me. It just represents a little part of who you are."
Maria Alvarado, a freshman in dentistry, agreed that the celebration of heritage is important.
"We have a variety of cultures. We come from different states within Mexico, and we show off who we are as Hispanics."
"It brings diversity on campus," Maria Hernandez, a senior in social work and Vice President of the HSO said. "Everybody gets to share a little bit about their background and it really motivates and inspires the students. I see a lot of people that aren't educated about different cultures, so they don't know where their boundaries are."
HSO members are also encouraged to participate in other organizations and events. By reaching out to other groups they learn new things about other cultures and find more avenues to share their own heritage.
"We always encourage everybody to attend, it doesn't matter if you're not fluent in Spanish, or if you're not of Latino background, we are always open to everyone," Hernandez said.
Tania Gonzalez, a sophomore in nursing and HSO secretary said she gets a cultural connection by being a part of HSO that she couldn't get anywhere else.
"People can assume things that are associated with other cultures, but once you get to experience it, you can see that it's something totally different." Gonzalez said.
For more information about the HSO, and how to get involved, go to http://ferris.orgsync.com/SearchOrgs and search "Hispanic Student Organization."
For more information about the events happening to celebrate Hispanic Heritage Month, go to the FSU event calendar at http://calendar.ferris.edu/ViewNonBannerMonth.html.
Hispanic Heritage Month runs until October 15.