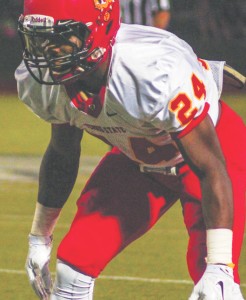 In a battle of two undefeated football teams, the Ferris State Bulldogs (8-0) came out on top in a 37-3 victory over the Huskies of Michigan Tech (6-1), all behind the legs of redshirt freshman Jahaan Brown.
Brown takes home the Top Dawg honors this week for the second time in three weeks, as he recorded 150 yards on the ground on just 15 carries. Brown also found the end zone twice for the Bulldogs and recorded one catch for 13 yards in Saturday's contest.
Brown has become a huge part of the Bulldog rushing attack over the past few weeks, recording 486 yards in his last three games. Brown has also had seven touchdowns during the three game span.
In the eight games so far this season, Brown has recorded 659 yards on the ground with eight touchdowns, along with six receptions for 84 yards and one kickoff returned for a touchdown.
The six-foot, 200 pound running back hails from East Grand Rapids, where he played both running back and defensive back for the Pioneers.
As a senior, he rushed for 1,648 yards and 20 touchdowns, which received him honors as a special mention on the Associated Press Division 3-4 All-State team at running back. Brown was also named to the Detroit News Division 3-4 All State Team in 2012 and was a Grand Rapids Press Dream Team honoree.