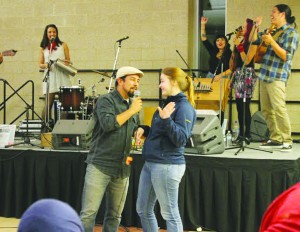 Described as the "best Latin alternate band" by LA Weekly, Las Cafeteras is known for their energetic multi-lingual performances that bring the crowd together.
Before their performance in the IRC, Las Cafeteras gave a workshop presentation in the College of Business and talked to students about stereotypes and racism using videos, music, discussions and laughter.
"They talked about the reasons we stereotype and why it's bad," sophomore Dinah Jankoviak said. "They told us to make our own judgments and not base them off of someone else's opinions. So we paired up with people and learned about their backgrounds instead of looked and judged."
Las Cafeteras talked about diversity and stereotypes in a way that made everyone feel comfortable. Hector Flores, one of the vocalists of Las Cafeteras, said that people need to do two things- ask about cultures and apologize for any mistakes.
"I really enjoyed it," freshman Sabrina Timmer said. "I'm happy to learn about other's ways. [The workshop] proves that everyone has stereotypes, but some can prove them wrong."
Several students found the workshop to be eye-opening.
"The workshop was really informative," pre-respiratory junior Geoff Amor said. "It gave me a better perspective on how different cultures are."
After the workshop, the band set up in front of Starbucks and played music for the students.
Las Cafeteras combines music styles such as Afro-Mexican, hip hop, folk and Native American to create a new and unique sound to their performances.
They have shared the stage with bands such as Edward Sharpe and the Magnetic Zeroes, Los Angeles Philarmonic, and Ozomotli. They are currently on a 52 day tour traveling across the United States to bring people together with dancing, music, and love.
"The music isn't what I usually listen to, but I like it," said Amor. "It's very unique. I've never heard of this type of music before."
The music energized the crowd. Las Cafeteras got students to dance and sing along with the unique music.
"I love the music," Timmer said. "It makes people happy, some like to sing and dance to it. They're smiling and having a good time and that's great."
At the end of the performance, Las Cafeteras held a raffle for students that participated in the workshop's survey. While some students won prizes such as a gift card to Starbucks, one lucky student won a $200 scholarship.
"You're the future of the country," Flores said to the crowd, "and the future looks hella beautiful."
If you'd like to learn more about Las Cafeteras and their music, visit their website at www.lascafeteras.com. You can also find them on Instagram, Twitter, and Facebook.