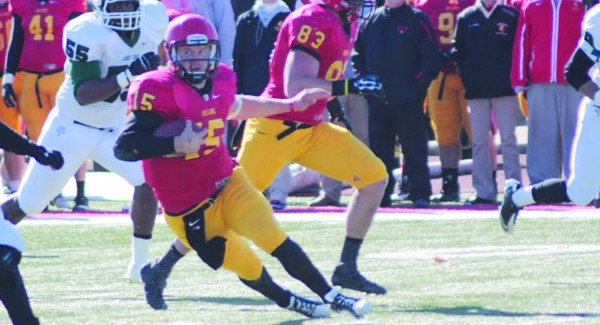 In a shoot-out against the Lake Erie Storm, the nationally ranked Ferris State Bulldog football team walked away with a 66-56 win, to improve to 9-0.
Vander Laan was extremely efficient in Saturday's contest, finishing 13-for-15 passing and totaling 215 yards through the air and three touchdowns. Vander Laan also ran the ball a team high 29 times and finished with a season high in rushing yards with 289. He also recorded three rushing touchdowns in the Bulldog victory.
With his performance on Saturday, Vander Laan has eclipsed the 1,000 yard rushing mark for the season, totaling 1,163 yards in just nine games, averaging 129 yards a game on the ground for the Bulldogs with 13 rushing touchdowns. Vander Laan also has 1,658 yards through the air for the Dawgs, with 24 touchdowns and just three interceptions on the season.
The 6-foot-4, 241 pound quarterback hails from Frankfort, Ill. and is an All-American candidate. The junior captain is a returning All-American and All-GLIAC honoree, as he started all 11 games for the Bulldogs in 2013 and set the NCAA Division II single-season rushing record for a quarter back, finishing with 1,607 yards. Vander Laan ran for 21 touchdowns in 2013 and also finished with 1,741 yards through the air with nine touchdowns.
With just two games remaining for the Bulldogs in the 2014 regular season, Ferris State is looking to make a deep run in the playoffs and will turn to their junior captain to lead them. Their junior captain who is looking to surpass last season's rushing and passing numbers, and who has the potential to be named the Division II Player of the Year.