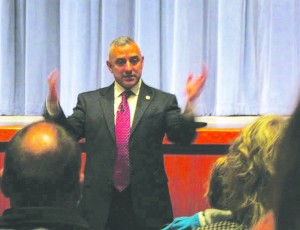 Retired staff sergeant, Purple Heart recipient and Iraq War Veteran Eric Alva came to Ferris to speak to students about diversity and equal rights.
Although the crowd was relatively small to Alva, he found it refreshing to talk to a "small, intimate crowd."
Alva was deployed to Iraq in 2003 and was in charge of 11 Marines in a supply unit. On March 21, 2003, Alva triggered a land mine and lost his right leg.
"I was in the helicopter flying back to base and all I could think about was 'I'm going to die," Alva said.
After his injuries, Alva became the center of media attention. After his recovery in 2006, he decided to contact the Human Rights Campaign (HRA) and use his popularity to repeal the "Don't Ask, Don't Tell" policy.
"I wanted to speak out on how people treat each other," Alva said. "I served my country proudly and I served for the rights, the liberties and the happiness of everybody. Not just the select few."
Having recovered from a war injury, Alva felt he had been given a second chance at life and discovered a new calling. I had to use my voice," Alva said. "I had fought and nearly died to secure rights for others that I was not free to enjoy. I had proudly served a country that was not proud of me." After coming out as gay and being a spokesperson for the HRA for five years, the "Don't Ask, Don't Tell" policy was finally repealed on Sept. 20, 2011.
"It wasn't about the LGBT community having extra rights," Alva said. "It was about the LGBT community having the same rights as everyone else."
After serving in the military, Alva went to college and received his Bachelor's and Master's degree in Social Work.
"[Social Work] taught me about who I am," Alva said. "It showed me that I am a very diverse person. I'm Latino, I'm gay and I'm disabled."
Although the crowd was small, the message he gave was vast.
"It was very interesting," Social Work senior Tonja Carter said. "[His speech] was a reality check. Diversity will always be an ongoing struggle unfortunately."
Students found that not only is equality an ongoing issue, but it also emphasized the importance of appreciating and supporting our veterans.
"I always personally believed that, as Americans, we should show support to Veterans," Business Administration junior Clarence Drilling said. "I was raised to believe that no matter what walk of life you chose, you are deserving of our respect, admiration and dignity."
During his speech, Alva stated that the world will always have segregation against someone in the world.
"I hate to agree and I hate to be a pessimist, but I feel he's right," Drilling said. "It all boils down to hatred. The first step we need to take is to let go of hatred."