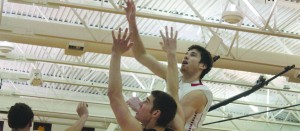 The Bulldog hoops squad is off to a hot start in exhibition play, coming within eight points of a victory on the road at Division I Oakland, and smearing Calvin by 36 points.
Rising above them all has been the imposing 6-foot-10 center, Jared Stolicker.
Stolicker, a junior out of Thornapple-Kellogg High School, has matured into a go to post player and shown his improvement in the team's first two games.
Most recently, the junior posted 16 points 7-9 shooting and five rebounds in the 92-58 win over Calvin College on Nov. 8 inside Wink Arena.
Master of the swat, Stolicker also had a team high four blocks in the contest in just 21 minutes of play.
Stolicker had 18 points, 11 rebounds and four blocks in the 94-87 loss at Division I Oakland University
Last season, Stolicker was second on the team in points per game with 10.4, and led the team in shooting percentage. Stolicker shot 60.8 percent from the field. Stolicker also led the team in rebounding with 6.3 per game and 164 in 26 games overall.
In two exhibition games, Stolicker has eight blocks, which is an average of four per game. In the 2013-14 season Stolicker averaged nearly two blocks per game, showing an apparent improvement over the first two games at least.
The men's basketball team will hit the road for the Conference Challenge in Quincy, Ill. where they'll play Quincy and vs. Missouri-St Louis on Nov. 15-16.
The Bulldogs open at home on Nov. 22 against Lewis (Ill.) at 3:00 p.m.