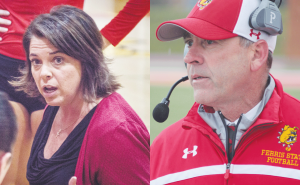 Head coaches round out this week's Top Dawg largely because their team's have qualified for the NCAA tournament.
Two seasons ago, Ferris State football finished a 6-5 season with a last minute win over Northern Michigan. Head coach Tony Annese spoke of a team headed towards the top of the GLIAC, and few believed him according to Annese.
An 8-3 in 2013 mark put a little more faith in the gridiron gang, though the team wasn't quite there.
Fast forward to Nov. 15. Down 11 points as the fourth quarter began, Annese willed the Dawgs to a 46-42 win to seal a perfect regular season at 11-0.
6-5 in 2012, 8-3 in 2013 and now 11-0 in 2014. Annese has improved his team's record every season since his move to Big Rapids.
Tia Brandel-Wilhelm has crafted an identity. In her 20th year at Ferris State, Brandel-Wilhelm is taking her team to their fourth consecutive NCAA tournament.
A 23-5 overall record and a 17-1 regular season GLIAC record shows that Ferris State has dominated the conference.
On Nov. 16, Ferris traveled to Grand Valley to take on the Lakers in the GLIAC tournament championship game. Fittingly, the Dawgs danced off the court 3-1 victors over their Laker counterparts and into the NCAA tournament, where the two could meet again in the second round.
Brandel-Wilhelm has coached over 500 Ferris victories in 20 seasons and has appeared in 10 NCAA tournaments.
Brandel-Wilhelm's Bulldogs finished in the Elite 8 last season after a loss to BYU-Hawaii.
Annese's fast rise to success and Brandel-Wilhelm's longevity have turned their respective teams into National Contenders, and they are by definition Top Dawg's.
The two enter the NCAA tournament coming off of victories.