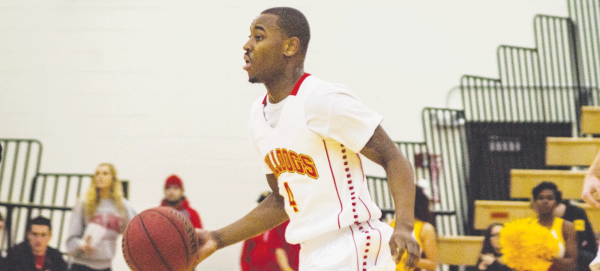 The basketball gods shone down upon Jibreel Jackson on his birthday.
Jackson, a junior point guard out of Chicago, was able to hit a game-winning three-pointer at the buzzer on Nov. 29 to give the Ferris men's basketball team a 54-52 victory over Albion.
The Bulldogs shot a brutal 15.2 percent from the floor in the first half, and trailed 34-18 at the half.
In 14 minutes in the first half, Jackson had two points on 0-3 shooting (2-2 at the free throw line.
Ferris heated up and shot three times as well in the second half as they did in the first at 46.7 percent.
Despite the improvement, the Dawgs found themselves down 52-51 in the final seconds with the ball out of bounds on the farthest side of the court.
Junior center Jared Stolicker fired a baseball pass to center court where junior forward James Chappell caught it.
Chappell turned and dished it aside to a driving Jackson, who pulled up at the three-point line.
Jackson let the ball go as time expired and his shot tickled the twine to give the Bulldogs a 54-52 victory over the Britons.
The shot was the only field goal that Jackson made the entire day, but it counted in the biggest way.
After the game Jackson was elated with his birthday present.
"This is the best birthday I have had," Jackson said. "It will be hard to top this birthday and I certainly wont forget it."