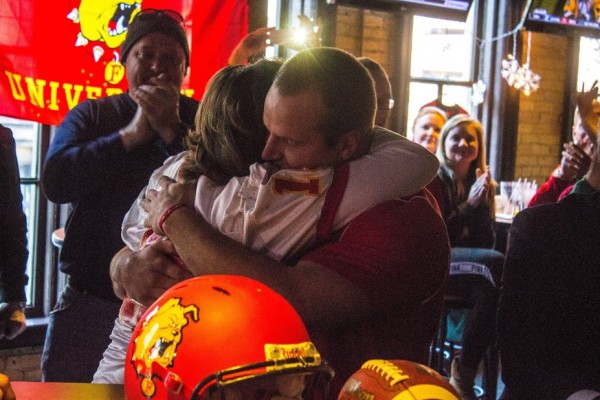 Ferris football fans were on hand at the Grand Rapids Buffalo Wild Wings this afternoon to witness junior quarterback Jason Vander Laan be named the Harlon Hill award winner.
The Harlon Hill trophy is awarded to the most outstanding football player in Division II college football annually. It is Division II's equivalent of the Heisman Trophy.
The first team All-American Vander Laan is the only active player in all Divisions of college football with both 50 passing and 50 rushing touchdowns in his career. The junior out of Frankfort, Illinois led the Bulldogs to an 11-0 regular season and Ferris State's first playoff appearance since 1996.
Vander Laan passed for 2,381 yards and 30 touchdowns. It was a 50 total touchdown season for the man dubbed "The Terminator," by head coach Tony Annese, as Vander Laan also led the Dawgs in rushing with 1,466 yards and 20 touchdowns.
With a season to go, Vander Laan has the school record in total offense and holds various school and national records as well.