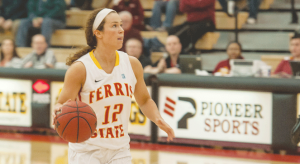 It's been a very happy holiday season for the Ferris State women's basketball team, as they've won four of their last six games. The Bulldogs boast an impressive 4-1 record at home or on a neutral court, and this home court advantage has helped catapult them to a 7-4 season record.
The latest series of home games found the Dawgs topping Malone 55-47, but losing to Walsh 82-79. A major contributor to both of these games was from junior guard Katie Mavis.
Mavis has earned herself considerable playing time all season, but has been working her way into the starting lineup as of late, and is taking full advantage of the minutes.
In the win against Malone, Mavis scored a team high 13 points, grabbed 3 rebounds, and dealt 4 assists, but that was hardly her biggest contribution. She put on a clinic in pickpocketing by swiping 7 steals on the way to a conference win.
In the following game, Mavis lead the team in points scored yet again when she netted 15 and was also credited with 6 assists in the close loss to Walsh.
With pivotal road trips to conference competitors Michigan Tech on Jan. 15 followed by a game at Northern Michigan just two days later standing between the Bulldogs and their next homestand, the team will be hoping for another big performance from Mavis to help continue their winning ways.