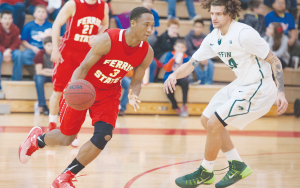 The Ferris State men's basketball team picked up two more wins in GLIAC play this past weekend and extended their win streak to 14 games. The Dawgs were led by junior Josh Fleming, who takes home this week's honors of Top Dawg.
The six-foot-five, 215 pound wing from Carol Stream, Ill. came up huge for the Bulldogs this weekend in their northern peninsula sweep over Michigan Tech and Northern Michigan. Fleming averaged 12.5 points per game in the two contests, along with 8.5 rebounds, one assist, and one steal per game. Fleming's double-double against Northern Michigan, 15 points and 11 rebounds, was a team high in both categories and helped the Dawgs edge out a 61-58 victory.
Through 16 games, Fleming has started each one and is averaging 11.6 points per game to go along with 6.1 rebounds and 2 assists per contest. Fleming's season high stands at 23 points, which was huge for the Bulldog's during their 82-68 beat down of Division I foe Bowling Green State back on Dec. 21. The junior wing also added 13 rebounds in that contest.
Fleming hails from Glenbard North High School in Chicago, where he earned All-State honors in his senior season after averaging 18 points, five rebounds, 2.6 assists, 2.1 blocks, and 1.3 steals per game.