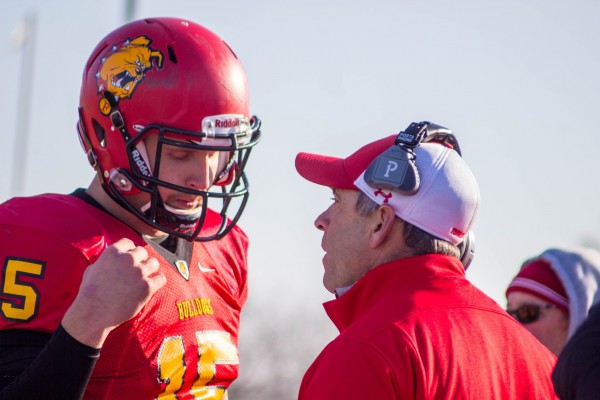 Jason VanderLaan wants his wings, and he wants them now.
This is my 200th career story as a member of the Torch, and while I could write something profound and meaningful, I'm going to attack this in the way a 240 pound quarterback would attack a plate of barbecue chicken wings: With great passion (and general hilarity).
For those of you that don't remember, the Westview Dining facility in the old Rankin University Center hosted "Wing Night." The chicken wings attracted students from far and wide, and Jason VanderLaan misses the tradition.
The man is 6'4" and 240 pounds. He is arguably the greatest football player in Ferris State history. He is certainly one of the more physically impressive.
In the last month, VanderLaan has been recognized as the best player in the nation at the Division II level as he brought in the Harlon Hill trophy, the Division II equivalent of the Heisman.
WBBL came to Ferris to broadcast their morning show on January 23, where VanderLaan admitted the only thing wrong with the brand new University Center was the lack of the continuance of Wing Night.
The building is gorgeous, and far more navigable than the old Rankin Center.
VanderLaan brings good publicity to Ferris. He's a great football player, and in my experiences a better man. He's an NCAA record holder. Ferris should consider naming the school record book after Jason.
In Division I football, Jameis Winston and Johnny Manziel dominated headlines over the last few years.
Unlike Manziel, you don't have to worry about VanderLaan being a team-first player. Unlike, Winston, you don't have to worry about VanderLaan stealing chicken wings.
Like Moses and the Pharoah, I imagine Jason standing in front of the Timme Center commanding President Eisler to "Let my B-Dubs go!"
(Disclaimer, the wings are not from B-Dubs, but it sounded better than "Let my wings go.")
So kudos to Jason, for leading us into the battle for our freedom to eat delicious chicken wings in the University Center.