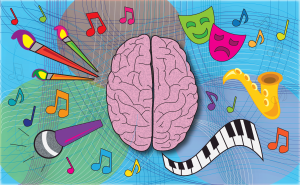 Throughout the month of February, students are invited to attend a variety of free concerts, performances, workshops and more hosted by the Big Rapids Festival of the Arts (FOTA).
"I wanted people to come together," said Bruce Dilg, chair of the 2015 Festival Board of Directors who started the festival 8 years ago, "and I thought the arts was a vehicle to make that happen. Whether you're a wood-carver, whether you're an opera singer, whether you're an architect, whether you're a painter or dancer, you name it—everybody's involved in art whether they know it or not."
The Board of Directors has been working diligently since last year to plan and coordinate this year's program. They hope to introduce the community to art in a variety of mediums.
"This year it was a really great experience," said Courtney Gilson-Piercey, a music professor and classically trained singer who is new to the Festival Board this year. "We had a meeting where we brainstormed all of the different types of art that there were—visual art, musical art, theatre art, literary art, films, things like that—and then we had a board that had all of these categories designated and we brainstormed events that we could put into each of these categories. Then, from those big, long lists of events, we wanted to pick a cross-section that would appeal to the largest variety of people in the community. We wanted to make sure that we had balance. It was a really fun process to get the juices flowing."
This year, for the first time, events in the festival program are listed not just in chronological order, but also by genre. There are 11 different artistic genres featured, including everything from architecture to cinematic arts to textile and fashion design to music. There will be events to appeal to people of all interests, ages, and artistic skill levels.
While most of the artists featured in the program are from Ferris or the Big Rapids community, FOTA is also bringing in performers from all over the state of Michigan and even the world, including the Michigan Opera Theatre; Andrei Marek, a master woodcarver from Romania; and Thirza Defoe, a Native American dancer; and the Grand Rapids Symphony. For the Grand Rapids Symphony concert, FOTA is trying hard to reach out to those in the community who wouldn't normally have the opportunity to see such a concert. They have teamed up with Dial-A-Ride to create a bus service to pick up people from nursing homes, Our Brothers Keeper homeless shelter and the local WISE shelter.
"I hope [people] find some artistic event or project or culture that they've never seen before—maybe just kind of passed it on the internet, but never really seen it," said Jerena Keys, pastor of the United Church and Board member who has been active in the Big Rapids fine arts community for years. "I hope they find something that can be part of their lives for as long as they live, that they find something that they never knew about, but they 'adopt' it and it becomes part of their life. I'm hoping that will happen only for students and community members—but for everybody. It's very surprising what people 'adopt' over the years and this is an opportunity for them to do that. It can change your whole life."
This year, FOTA is doubling its efforts to reach out to the FSU student population. "The biggest disappointment I have personally in the festival is that I haven't been able to find ways to connect with students more," said Dilg. "I would love to have more students involved."
FOTA hopes to achieve this through giveaways in the new University Center and increased presence on social media websites. In addition, 18 of the festival's 54 events will take place in various locations on campus for students' convenience.
The first festival event is the Opening Reception, which will take place January 30 in the University Center at 6 p.m. The event will take place in conjunction with the FSU Honors Art Show and the "Disparate Elements: A Steampunk Revolution" exhibit.
Events will take place between January 30 and February 2 and the majority are free to the public. Students can find more information about FOTA including an interactive 2015 program booklet online at their website, www.brfota.org.